Relaxed rule expected to be part of solution to country's problem of aging population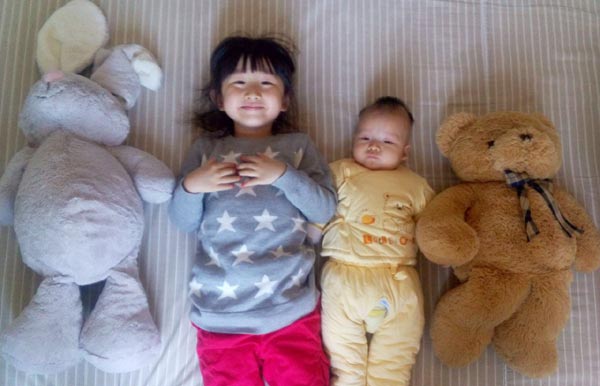 Li Shuchun, 4, and his 7-month-old brother Li Shuhan, live in Beijing with their parents who are among the 1.07 million out of 11 million eligible couples applied to have a second child by the end of last year. [Photo by Wang Nina/Provided to chinadaily.com.cn]
A senior official at the National Health and Family Planning Commission hinted that China's universal two-child policy could come into force as early as Jan 1, if all goes as expected.
After the country's top leadership announced the most recent easing of the policy in late October, many couples were left wondering when the new policy would come into effect.
Experts speculate that the earliest opportunity for the National People's Congress Standing Committee, the top legislative body, to review the law is December, meaning it could take effect early next year.
Wang Peian, vice-minister of the National Health and Family Planning Commission, said his agency has accelerated its work related to amending the law.
The commission is "on the same page" as public expectations with respect to the rollout timetable, Wang said at a news conference on Friday.
The commission formed a working team of experts to prepare for the amendment of the law back in March, and it has exchanged thoughts with authorities many times, he said.
Relaxation of the family planning policy is expected to provide part of the solution to the challenge of an aging population, and to become a new driver for the economy in the long run.

By the end of 2014, the number of people over 60 years of age had reached 212 million, accounting for 15.5 percent of the total population. Of those, about 40 million were disabled or partly disabled.
The government has made healthcare and elderly care a priority in the country's 13th Five-year Plan (2016-20),
By 2017, a host of agencies with both the capacity and capability to provide healthcare and elderly care services should be built, and such services should be more accessible, the commission said in a statement.
"The country plans to basically build a comprehensive and continuous network integrating the two services that will cover both urban and rural areas by 2020," Wang said.
In a report, Zhang Yidong, a strategic analyst at Industrial Securities, said that China's changing population structure is also leading to a change in the structure of consumption.
People between the ages of 35 and 44 account for the largest proportion of China's population and are the biggest consumers. As they get older over time, they are expected to drive consumption in areas such as insurance, healthcare and housekeeping services.
lanlan@chinadaily.com.cn