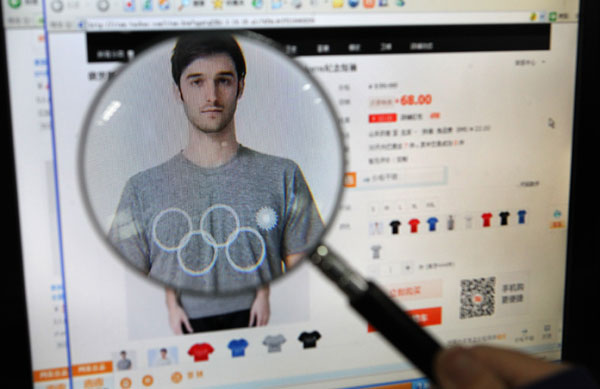 Ring malfunction logo T-shirt of the Sochi Olympics
She bought the statuette from vendor Xian Yuange, who says the breakup talisman is among the most popular traditional enchanted items he sells.
"This spiritual figure is used to pray for guidance from the goddess of ninth heaven to break up doomed love or inappropriately obliged couples, so both sides are no longer entwined and quickly split," he explains.
"I advise prudence and that clients weigh the magnitude of their purchases. Only if your spouse has engaged in an affair and your marriage is beyond redemption will I sell to you."
Another set of popular and distinctly Chinese "magical" items on Taobao are amulets that profess to buoy test scores - a trendy commodity in a country that esteems education within a system that venerates exam results.
The statuettes' powers are unleashed when they're immolated, Xian claims.
But there's a caveat. "It only works if you believe in it," he says.
Fake partners
While some use Taobao to end real relationships, others employ it to find fake ones.
Boyfriend rental services are popular among single career women approaching or past their 30s, who face parental pressure to start families.
Hired men often charge additional fees for such extra services as smoking cigarettes or swilling baijiu (traditional Chinese liquor) with aspiring fathers-in-law.
And whereas some women rent sham suitors for their parents' sake, other phony Taobao "boyfriends" are purchased for women's personal needs and are likely to be concealed from their families.
Lonely single women grappling with contemporary life's alienation can order life-sized plastic partners - and, no, not just as sex aids. Some of these platonic boy toys come with interchangeable heads, presumably to spice things up.