In today's trending, woman destroys ATM with bare hands, man diagnosed with gynecological disease, son's friends look after mother when he dies, and a job fair for drug addicts.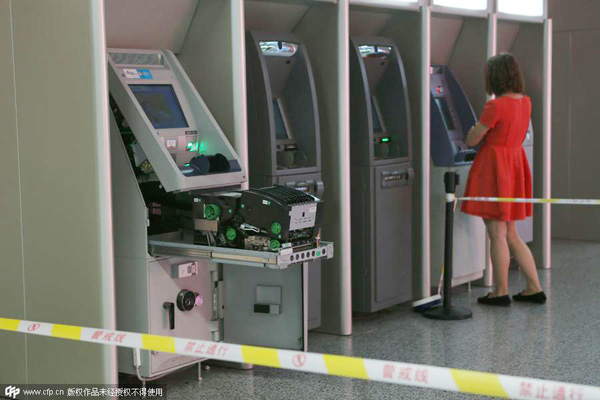 Police cordon off the damaged machine, on Thursday. [Photo/CFP]
Woman rips ATM machine open with bare hands
Police detained a woman in Northeast China's Changchun for tearing open an ATM machine with her bare hands on Thursday after claiming it swallowed her debit card, Xinwenhua News reported on Tuesday.
However, a bank clerk said they found no cards within the machine.
The suspect was taken to a local mental facility after police ordered she undergo a psychiatric evaluation.
A witness said Lin began pounding the ATM at a subway exit,claiming the machine ate her card after failing several times to withdraw cash. She pulled off the frame, and rolls of receipt paper could be seen inside the damaged machine.
Surveillance footage shows she managed to disassemble the machine within a matter of minutes.
In our next story, a man is diagnosed with a women's disease.