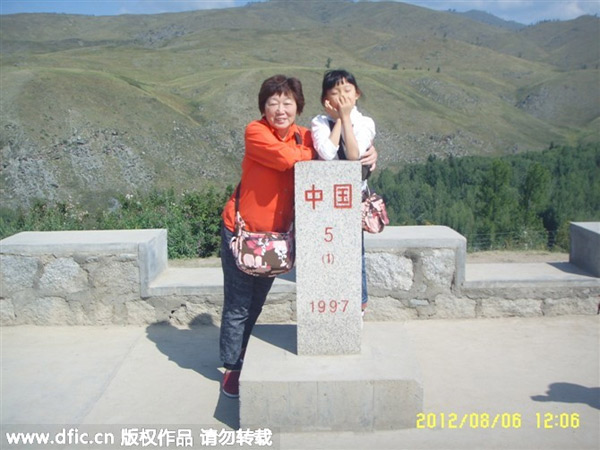 Zhang Huimin and her granddaughter Rong Rong, at an unspecified site, on Aug 6, 2012. [Photo/IC]
Grandmother teaches granddaughter independence through travel
An intrepid grandmother loves traveling and believes it helps children grow up. So she has taken her 10-year-old granddaughter traveling over half of China and to nearby countries, taihainet.com reported.
Zhang Huimin, a 70-year-old woman from East China's Xiamen, said she used to take her daughter with her on business trips, and she learned to care for herself and solve simple problems very fast. So she decided to take her granddaughter, nicknamed Rong Rong, travelling too.
When Rong Rong was 10 months old, she traveled for the first time to Fuzhou, a city about 250 kilometers away from Xiamen. When she was 4, they went to Southwest China's Tibet.
Zhang said Rong Rong learned characters quickly through surveying the maps, and developed an independent and conscientious character at an early age. "Next time, I'll let her do all the research and reservations, and she will be the guide," said Zhang.
In our next story, imagine discovering a bird's nest in your pants!