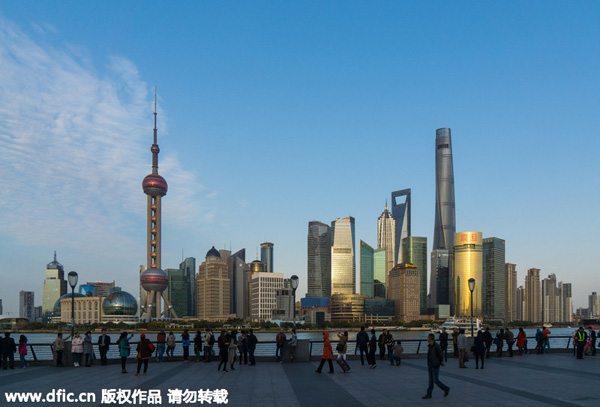 The Bund in Shanghai, one of the most developed cities in China. [Photo/IC]
Shanghai on 20,000 yuan a year

Shanghai has one of the highest cost of living in China, with Shanghainese spending 30,520 yuan ($4,914) a year on average in 2014. A local couple, however, shocked netizens by claiming that they spend one third of this average per head, and yet live comfortably in the city.
A netizen, 43, posted on Tianya, one of China's biggest online chat platforms, saying that he and his 39-year-old wife spent about 20,000 yuan of their savings while living in Shanghai in 2014, living in their own house, with no child, no car and no job for either of them.
The couple spent 1,000 yuan a month for meals, 50 yuan for tea, 300 yuan for fruit, 200 yuan for medicine, 240 yuan a month for a buffet dinner, 340 yuan for TV fees, 40 yuan for property fees, and 50 yuan for transportation fees.
They did not buy new clothes and cosmetics or socialize with relatives or friends.
Netizens differ in their opinions about the couple's frugal lifestyle. One netizen believed that they are insightful as working equals making money for the boss.
Another disagreed, saying there's no meaning in a life where one is merely scraping by for food and clothing.
In our next story, a burglar is caught sleeping in a homeowner's bed.