A man attacks a supermarket with the weapon of ancient legendary general in Hunan, a former senior engineer works as security guard to look after his father, the Hogwarts-style building in Hebei now ready for animators.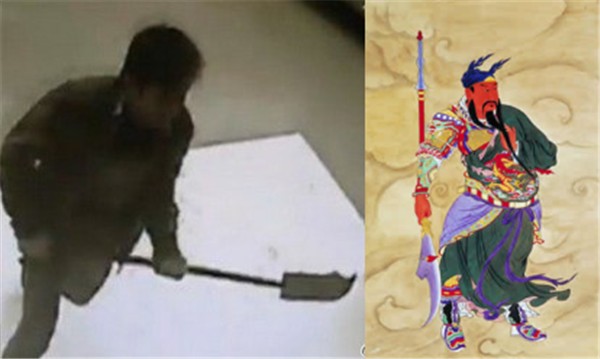 Surveillance video at a supermarket shows a man holding a blade (left). On the right is the photo of legendary Guan Yu with his weapon. 
Angry smokers batter shop with green dragon crescent blade
A man in Changsha of Hunan province and two of his friends were arrested after they trashed a supermarket for selling suspected fake cigarettes on Dec 9, reported Hunan TV.
The story took a dramatic turn when one of the attackers whipped out a weapon: a green dragon crescent blade, which was wielded by Guan Yu, a legendary general in the Three Kingdoms Period (220-280). Guan Yu is well-known for his loyalty, righteousness and bravery, and he is still worshiped by many Chinese people today.
The shop owner has been put under investigation for selling suspected counterfeit tobacco.