Trending: A sick ambulance driver dies after ignoring his own pain to transport a patient to hospital, new law states Chinese can be given family names after someone other than a parent. 
Ambulance driver dies taking patient to hospital
A sick ambulance driver who insisted on driving a patient to hospital died after delivering the patient to medical care, reported xinhuanet.com on Monday.
Jia Haibo, 38, received an emergency call from a diabetic patient in a critical condition last Friday in Jiamusi in Northeast China's Heilongjiang province. On the way to hospital, he felt unwell and his face turned pale, but he refused to stop the ambulance and insisted on taking the patient to hospital first.
When the ambulance arrived at the hospital five minutes later, Jia collapsed onto the steering wheel. He died in hospital shortly after from a brain stem hemorrhage.
Related:
Photo of perfect parking in Jinjiang goes viral

Chinese can be given family names after people other than parents: legislature
China's top legislature explained the naming rules of citizens on Monday.
According to the explanations, a Chinese citizen is allowed to be given a family name after an individual other than his/her father or mother, under certain conditions.
According to the Law of Marriage of the country, "citizens should be given family names after his/her father or mother in principle", but exceptions can be made under the new explanations. For example:
"One's family name can be that of any of his/her directive relatives in an elder generation;"
"One's family name can be that of his/her legal foster parents."
Related:
E China launches 'trial divorce' to save marriages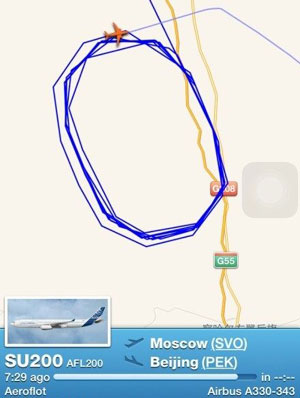 Smog forces plane to go in circles
Flights usually choose other destinations to land or delay their take off time when it comes to bad weather condition.
Many flights to Beijing on Sunday choose to land on alternative airports due to the severe smog in the city, but Aeroflot chose a different path. The flight SU 200 kept flying over Inner Mongolia autonomous region in circles for the cold front in Beijing to clear the foggy air, Yangzi Evening News reports. After circling eight times, the flight finally made its trip to its destination - Beijing.
Related:
Cold front clears smog in China

SOS by taxi driver turns out false alarm
An LED light on a taxi reading "I'm robbed, please call police" drew another taxi driver's attention and the driver called the police, according to a Xi'an local newspaper called Hua Shang Daily on Monday.
The driver alerted the police after he saw the sign but they failed to find the cab. After tracing the number plate, they were able to contact the driver the next day. It turned out the driver had accidentally switched on the "call police" button. "My mistake left many people worried about me yesterday," she said.
Related:
No taxi? Drivable suitcase may help