Dama block road for square dance, wild boar shot dead, shop starts selling helicopter.
Boar shot dead
A wild boar, weighing more than 100 kilograms, was shot dead after killing a courser on September 18 in Yun county, Central China's Hubei province, Chutian Metropolis Daily reported. Due to rise in Han river's water level and subsequent flooding of reeds, the boar left its habitat and wandered into a middle school in the county. Six hunters and five coursers were sent to the scene after people alerted police. The boar bit one courser to death before being shot dead by a hunter.
Related: Herding wild boars on a mountain

Dama block road for square dance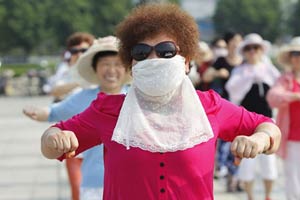 Zhejiang's dama, or middle-aged women, blocked a road to make room for their square dance in Jinhua city, which triggered a heated debate on the Internet, youth.cn reported. According to reports, the dama occupied a whole road in the city's Jindong district by putting up roadblocks on two sides with a sign saying "Do not enter and turn right". After receiving complaints, local traffic police carried out an investigation.
An official from Jinhua traffic police detachment said traffic was not affected as it was a dead-end road and the roadblocks and traffic signs were placed under traffic police's guidance.
People claimed they were worried about potential safety hazards and suggested that dama choose a better place to ensure their own safety.
Related: 2,000 perform square dance in sizzling heat

Shop starts selling helicopter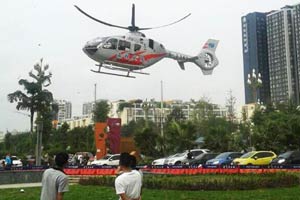 In a first-of-its-kind, a shop began selling helicopters in Chengdu, Southwest China's Sichuan province, on Saturday.
The outlet sold its first chopper for 4 million yuan ($651,445) and launched a low-space air travel route from the capital Chengdu to famous tourism attraction Emei Mountain, newssc.org reported.
"We offer seven types of aircraft with prices ranging from 4 million to 60 million. We plan to sell seven copters this year and 20 to 30 next year," said the owner of the shop Lin Xiaobo.
Related: Soaring ambition for E China senior

Quake hero turns TV star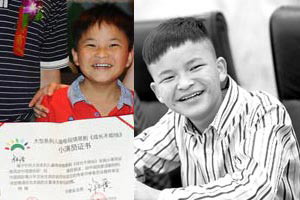 Lin Hao, who was praised for heroically helping to save people after the Wenchuan earthquake in Southwest China in 2008 at the age of nine, has become a star in many TV series due to his fame.
Many people, including his director Xu Geng, are worried that his excessive devotion to becoming a professional actor will hamper his school lessons as he is still a grade three student at junior middle school, Jinling Evening News reported.
Xu said Lin now has little time for school as one of Lin's so-called "uncles" has established a company and is now operating as his agent.
Related: $400,000 donated to aide relief efforts of Yunnan quake in NY