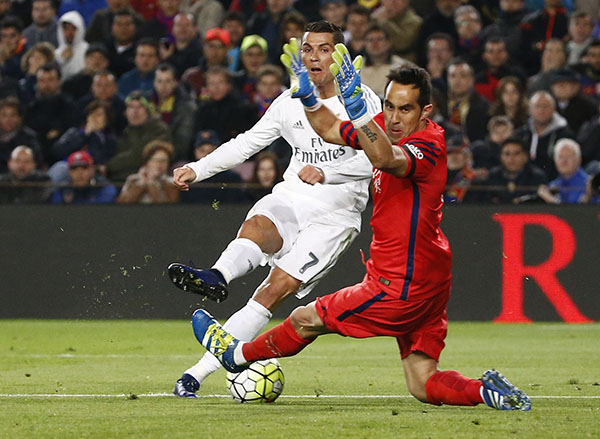 Real Madrid's Cristiano Ronaldo scores their second goal against Barcelona during the "Clasico" at Camp Nou in Barcelona, April 2, 2016. [Photo/Agencies]
BARCELONA - Barcelona coach Luis Enrique said his team would not allow Saturday's 2-1 home defeat by bitter rivals Real Madrid to affect their confidence.
La Liga leaders Barca were the better side for most of the 'Clasico' but a late goal by Cristiano Ronaldo helped third-placed Real close the gap on the Catalans to seven points with seven games to go.
Atletico Madrid are in second spot, six points off the pace.
Luis Enrique does not believe the defeat will damage Barca's title challenge or their bid to retain the Champions League and King's Cup.
"This game doesn't exist any more, there's no pain," he told a news conference at the Nou Camp.
"The team were really up for the game, so were the fans, and there's nothing else we can do but lift ourselves up. Defeats teach you things, they teach you that every trophy is difficult and the players know that."
Luis Enrique said his side struggled to cope with the shock of losing their lead so soon after Gerard Pique had put them in front in the 56th minute, Karim Benzema levelling for Real six minutes later.
"The equaliser caused us a lot of damage and unfortunately we lost our first game at home (since February 2015)," added the Barca coach.
"You can't choose when you're going to lose. We have to recover, rest and remember that we are the league leaders and that the most consistent team win the title."
Real coach Zinedine Zidane was cautious when asked if the win could spark a late title bid.
"We have to overtake Atletico first," he said. "We have to think about our next game in the Champions League (quarter-final against VfL Wolfsburg on Wednesday) and then think about getting three points in our next league game."
Zidane did not hide his joy at winning his first 'Clasico' as a coach.
"I'm very happy with everything about the game especially the result," said the former Real playmaker.
"We struggled at first but that's normal because it's a difficult ground to play at. I'm very proud of my players and how they played.
"Winning here is a huge prize for all our players because they put in an enormous performance," said the former France great. "It's not easy to win here, few teams win here."