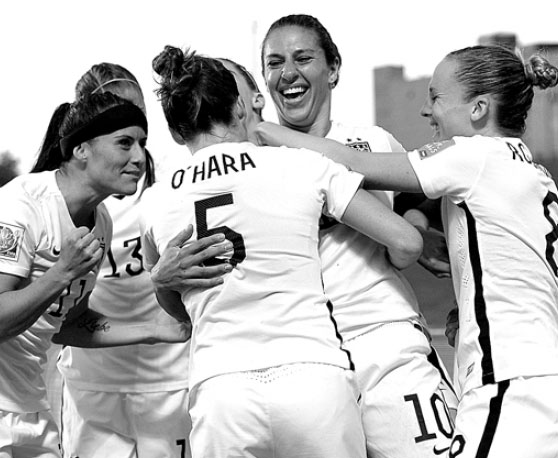 Team USA players celebrate a goal during the 2015 FIFA Women's World Cup in Ottawa last June. Marc Desrosiers / USA Today Sports
Five members of the reigning Women's World Cup champion Team USA said on Thursday they have filed a complaint against the US Soccer Federation alleging wage discrimination and insisting they should be paid the same as their male counterparts.
Barely four months before the American women are set to try for a fourth consecutive Olympic gold medal at Rio de Janeiro, players are taking a major stand.
"I think we've proven our worth over the years," World Cup MVP Carli Lloyd said on NBC's Today show.
"Just coming off of a World Cup win, the pay disparity between the men and women is just too large and we want to continue to fight for equality."
Lloyd, Megan Rapinoe, Rebecca Sauerbrunn, Hope Solo and Alex Morgan filed the complaint with the Equal Employment Opportunity Commission, which will investigate, issue findings and seek relief if warranted.
"Five players signed the complaint, but the decision to file was supported by the entire team," Sauerbrunn tweeted.
Team USA won last year's Women's World Cup in Canada, defeating Japan 5-2 in the championship game, while the US men's team lost in the round of 16 at the 2014 World Cup in Brazil.
The US women earned just $2 million in prize money, which the federation distributed to the players and the organization, while the losing men's team picked up $9 million.
"The numbers speak for themselves," said Solo, a national team goalkeeper for 15 years.
"We are the best in the world, have three World Cup championships, four Olympic championships and the US men's national team gets paid more to just show up than we get paid to win major championships."
Germany's World Cup champion men's team was paid $35 million.
"We believe now the time is right because we believe it's a responsibility for women's sports, specifically women's soccer, to really do whatever it takes for equal pay and equal rights and to be treated with respect," Solo said in the Today interview.
Morgan, in an Instagram posting, said that beyond money, the women wanted greater respect, citing the quality of playing fields as an issue.
A scheduled match last December in Hawaii against Trinidad and Tobago was called off due to poor field conditions.
"This is not only about equal pay - we get paid less than half of our male counterparts - but also equal treatment," Morgan wrote.
"We deserve to play in top-notch, grass-only facilities like the men's national team, not dangerous turf fields.
"We want to have decent travel and decent accommodations.
'For all the little girls'
"We have dedicated our lives to this sport and our country and we love soccer and our fans.
"We think it's time for employers to truly address the inequality and do not only what is fair, but what is right.
"We decided to do this for all of the little girls across the country and around the world who deserve to have a voice, and if we don't leverage the voice we have, we are letting them down."
US Soccer said in a statement it was "disappointed" by the move.
"While we have not seen this complaint and can't comment on the specifics of it, we are disappointed about this action," the federation said.
"We have been a world leader in women's soccer and are proud of the commitment we have made to building the women's game in the United States over the past 30 years."
US Soccer noted it subsidizes the National Women's Soccer League, a 10-team circuit in which US national team players compete for club teams.
Several earlier attempts at a US women's professional league failed.
"As part of this, women's national team players are paid fulltime salaries and other compensation," a US Soccer statement said.
The players union disputes its collective bargaining agreement with US Soccer, claiming the deal can be terminated at any time while the federation says the contract remains in force to the end of the year.
"It has become clear that the federation has no intention of providing us with equal pay for equal work," Rapinoe said.
"We had to take our fight for equity and equality to another battlefield," added Sauerbrunn.