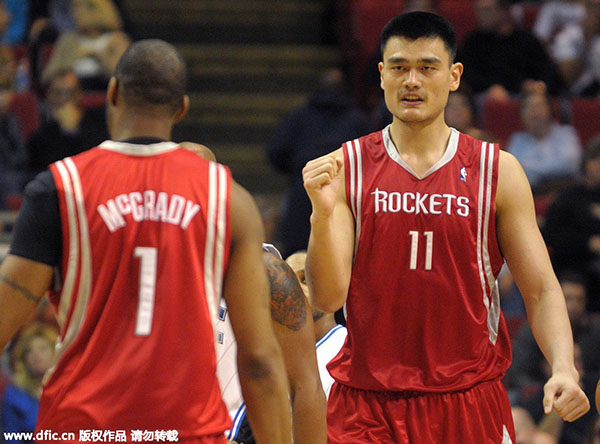 Then Houston Rockets center Yao Ming (11) celebrates with teammate Tracy McGrady (1) late in the second half of an NBA basketball game against the Orlando Magic in Orlando, Fla., in this Nov 22, 2008 file photo. The Rockets won 100-95. [Photo/IC]
Former Houston Rockets center Yao Ming, who is credited with building the popularity of professional US basketball in China, has been elected to the Naismith Memorial Basketball hall of Fame for the class of 2016, Yahoo Sports reported on Wednesday.
The formal announcement is expected to be made at the NCAA Final Four basketball tournament in Houston this weekend, according to the report.
Yao, 35, was the No 1 overall pick in the 2002 National Basketball Association draft. The 7-foot 6-inch center averaged 19 points and 9.2 rebounds in his eight seasons with the Rockets. He was twice voted to the All-NBA second team (2007 and 2009) and three times made the All-NBA third team (2004, 2006 and 2008).
Yao retired in 2011 after several injuries, including a third left-foot fracture in 2010.
Yao was nominated and enters the Hall of Fame under a newly created Direct Elect International Committee, according to Yahoo Sports.