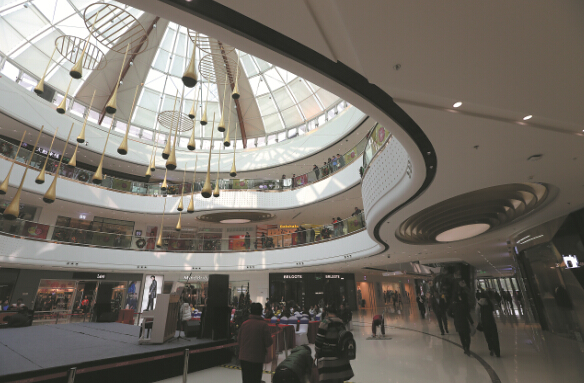 Wanda Plaza in Nantong's Gangzha district. The property development project went into operation just 22 months after the contract signing ceremony. XU CONGJUN / FOR CHINA DAILY
The roar of heavy construction machinery and trucks is a daily feature of life in Gangzha district, Nantong city.
The numerous large-scale construction projects that have sprung up show that local officials have been very successful at attracting investment.
On March 19, the district kicked off construction work on 16 key projects for the year, among which is a store for IKEA, one of the world's leading furniture retailers.
The district also signed contracts for a further eight projects on the same day.
The projects are part of the district's ambitious "three 100 action plan".
This year, Gangzha aims to begin construction work on at least 100 projects, sign letters of intent for 100 projects and make breakthroughs in another 100 projects.
The total investment involved is expected to surpass 30 billion yuan ($4.6 billion).
"The action plan is an important part of the district's strategy to upgrade its industrial structure," said Shen Hongxing, Party chief of Gangzha.
The district's successful bid to attract a number of leading companies is a key part of the upgrade, which will lead to the establishment of a complete industrial chain, Shen said.
Linsen Logistics Group, one of China's leading logistics companies, is a good example of this.
The company employs cutting-edge technology throughout its transport process.
Jiang Rui, head of Linsen's monitoring center, said the company now uses the Beidou satellite navigation system, which allows it to monitor all of its trucks in real time.
"Each moving red dot represents a truck," Jiang said, while pointing at a giant screen in the company's control room.
From the nearby cities of Shanghai and Suzhou to the faraway provinces of Heilongjiang and Guangdong, the system can monitor every truck on the road, he said.
Linsen's revenue reached more than 3 billion yuan last year and the company counts among its clients many big names from the Fortune 500 list, including Coca Cola and BASF, one of the world's largest chemical producers.
Linsen's presence has led to the establishment of a logistics park in Gangzha district and a large number of other logistics companies, such as Baowan and Mingyuan, have also set up branches in the park.
"This is how leading companies accelerate our industrial upgrading," said Cao Jinhai, head of Gangzha district. "The district will give more priority to — and allot more resources for — some key projects that will attract many similar companies in the future."
The arrival of companies such as IKEA and Linsen has driven the district's rapid economic growth.
Last year, Gangzha registered fixed-asset investments worth 27.6 billion yuan, making it Nantong's most prosperous district.
The district also saw a boom in other sectors, including the service and cultural industries.
Gangzha's Saige Times Square is home to more than a dozen domestic animation companies.
"They have the potential to become a strong economic growth point in the future," Cao said.
Cao said Gangzha will continue to focus on large-scale projects this year.
Every senior official in the district is in charge of a number of key projects, Cao said.
"Each official will supervise the approval process and be a problem solver for these projects," he said.
The goal is to introduce 20 large projects in the modern manufacturing and modern service industries this year, Cao added.
To attract more investment, the district's investment bureau has been divided into 13 sub-offices, each in charge of a different sector.
With each sub-office targeting a specific group of investors, the district aims to streamline the process of attracting investment.
Wanda Group began operations from its plaza in Nantong just 22 months after the contract signing ceremony in 2013.
"The speed with which Wanda was able to establish itself in Gangzha is a good example of our enhanced efficiency," said Shen Hongxing, Party chief of Gangzha.
"We hope it is just the beginning."
Contact the writers through dingcongrong@chinadaily.com.cn