City marks many achievements, Ding Congrong reports.
By DING CONGRONG dingcongrong@chinadaily.com.cn
Nantong has reached the goals set for its 12th Five-Year Plan (2011-15) and made marked progress toward the target of building a moderately well-off society over the past five years.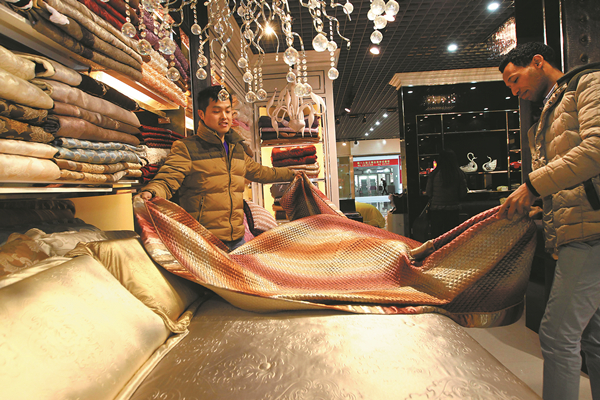 A native businessman at the Dieshiqiao textile market in Nantong, a home textile production and sales hub in China, shows his products to a Moroccan buyer.
• Improving comprehensive economic strength.
Nantong's GDP and general budget revenue ranked 10th and fifth among prefecture-level cities around the country in 2014. The figures are expected to reach 600 billion yuan ($92.6 billion) and 60 billion yuan respectively this year.
• Sophisticated transportation network.
The city has invested 15 billion yuan in building the Nantong-Suzhou Yangtze River Bridge, which is expected to start operation in 2019. With 7.5 billion yuan investment, the Chongqi Bridge, which connects Chongming county in Shanghai and Qidong in Nantong, was opened at the end of 2011.
All counties in Nantong are connected by expressways. The city has built or renovated 543 kilometers of highways, of which 453 km is in use.
With a depth of 12.5 meters, a Yangtze River waterway that connects Taicang and Nantong was opened in December, enabling vessels of up to 200,000 tonnage to berth at Nantong Port. With an international terminal built and opened, Xingdong Airport has launched air routes to South Korea, Japan, Thailand and China's Taiwan. The annual passenger throughput of the airport has reached 1 million.
Over the past five years, the city has invested 11 billion yuan in railway construction, 3.6 times the figure during the 11th Five-Year Plan (2006-10). During that period, 12.6 million passengers have ridden trains in the city.
• New sources for growth in reform and opening-up.
Nantong has pushed forward deepened reform and opening-up over recent years. Eighty key reform projects in the city have been named national or provincial pilots.
The city is a national pilot city for land-sea coordinated development, reform on administrative licensing rights and reform on the comprehensive administrative law enforcement system. It has set up the first administrative examination and approval bureau among prefecture-level cities around the country.
It has six national economic development zones and 15 industrial parks that feature multinational economic cooperation.
• Breakthrough in coordinated land-sea development.
The Tongzhou Bay Land-Sea Coordinated Development Demonstration Zone was built with the approval of the National Development and Reform Commission and the provincial government. The Yangkou Port and Qidong Port were put into operation, bringing the number of first-class open ports in the city to five. Waterways for 150,000-tonnage and 100,000-tonnage vessels are being built in the Yangkou and Qidong ports.
• Renewed urban layout and improved functions.
The area of downtown Nantong is 1.64 times the figure at the end of the 11th Five-Year Plan. The city's plan to build a subway network has been approved by the State Council. A host of key projects, including a new building of the city's library, a maternal and children's healthcare hospital and a middle school attached to Nantong University, have been completed.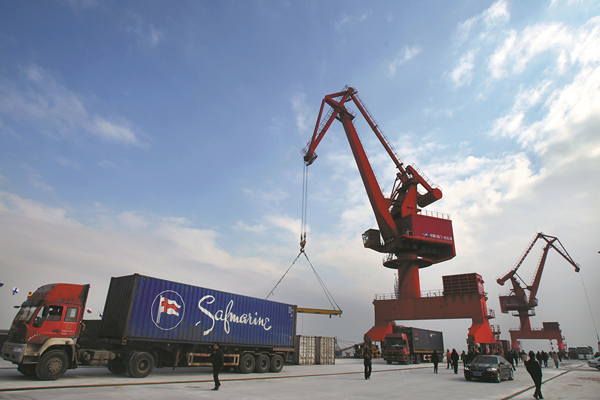 A bustling harbor in Nantong, Jiangsu province. The city has developed a comprehensive transport network with expanded infrastructure during the 12th Five-Year Plan period (2011-15). PHOTOS PROVIDED TO CHINA DAILY
Economic restructuring, upgrading
• Nantong has sped up its economic restructuring and upgrading. The proportion of high-tech and emerging industries increased by more than 12 percentage points. The added value of the service sector has surpassed that of industry.
• The city's industrial output is expected to reach 1.35 trillion yuan this year, making it the fourth city with industrial output exceeding 1 trillion yuan in Jiangsu province. The city's investment in technological upgrading accounted for 63 percent of the total in industry. The city has built two national new industrialization demonstration bases, one for shipping and ocean engineering and the other for home textiles.
• The added value of the city's service industry increased by 12.6 percent annually on average, higher than its GDP annual growth rate and the annual growth rate of the service industry in Jiangsu province. The city's investment increased by 33.9 percent annually on average, ranking first in the province for four consecutive years.
• The city's foreign investment accounts for more than 10 percent of the province's total. It has launched 245 major foreign-invested projects each with investment of more than $30 million, among which 52 projects have investment of more than $100 million.
• Nantong has encouraged residents to start their own businesses and promoted public entrepreneurship. The added value of the city's private economy reached 397 billion yuan, suggesting an annual increase of 12.6 percent and accounting for 65 percent of its GDP. Private enterprises hired 395,500 employees.
• The output value of the city's construction industry reached 2.2 trillion yuan, ranking first among all cities in the province. In 2015, construction enterprises in Nantong won 10 Luban Prizes, the country's highest honor for quality construction projects.
• The added value of the city's finance industry accounts for more than 5 percent of its GDP. Eleven banking financial institutions, including Hongkong and Shanghai Banking Corp, Shanghai Pudong Development Bank and Bank of Communications, launched operations in Nantong.
• The city has held the Nantong Jianghai Expo for three consecutive years and attracted about 5,000 participants from home and overseas.
• Nantong approved 334 new Taiwan-invested projects and attracted investment of nearly $2.73 billion. More than 1,600 Taiwan businesspeople participated in the Industrial Upgrading Summit for Taiwan Businesspeople held in the city.
• Five provincial-level development zones in the city were approved, including the Sutong Science and Technology Park, the Qidong Lyusi Port Economic Development Zone and the high-tech zones of Haian, Rugao and Nantong North. Several multinational parks, including the China-Austria Sutong Eco-Park and the China-Italy Haian Eco-Park, were also launched.
• As a demonstration city for new-energy use, Nantong has more than 1.5 million kilowatts of power capacity that was generated by new energy. The annual power generated by new energy in the city reached 3.39 billion kWh, accounting for 10.2 percent of the total electricity consumption.
• Nantong became a pilot city for promotion of energy-efficient and new-energy vehicles in 2010. The city has more than 1,500 new-energy vehicles, five large-scale charging stations and 506 charging posts. It also has eight new-energy automobile manufacturing projects with total investment of nearly 20 billion yuan.
Research and innovation
• Nantong was named a national Pilot City for Innovation and a model city for intellectual property rights in 2012. It was also named a national model city for high-quality products by the General Administration of Quality Supervision, Inspection and Quarantine.
• Nantong has invested more than 15 billion yuan in scientific research and development, accounting for 2.55 percent of its GDP. The number of city-level or above research institutes founded by enterprises has increased from 478 at the end of the 11th Five-Year Plan (2006-10) to the current 895.
• Nantong has devised several plans to attract top-notch professionals. The city has 120 experts included in the national "1,000-talent" project, which aims to attract leading overseas returnees to the country to benefit from its technological advancement. Gu Xiaosong, a professor at Nantong University, has been elected an academician of the Chinese Academy of Engineering.
• A cylindrical offshore oil drilling platform developed by the COSCO Shipyard Group won first prize in the National Scientific and Technological Progress Award 2011, which was unprecedented for a Nantong enterprise. Forty-five scientific achievements were awarded scientific progress prizes at the provincial level or above.
• The city has paid great attention to public innovation. About 125,000 applications for patents were submitted and 79,000 approved. The number of patents for invention per 10,000 people increased from 2.65 to 13.
• Nantong was named a national pilot for smart cities by the Ministry of Housing and Urban-Rural Development in August 2013. It was also named a pilot for green smart cities at the EU-China Urbanization Partnership Forum in November 2013.
Agricultural modernization
• Nantong's grain output has increased for 12 consecutive years and reached 3.42 million metric tons this year, 168,000 tons higher than the figure at the end of the 11th Five-Year Plan.
• The city has significantly improved its agricultural infrastructure. The area of its high-quality farmland reached 251,330 hectares, accounting for 56.4 percent of the total.
• Nantong has invested about 2.65 billion yuan in water projects in rural areas. The city has built or renovated 1,205 pump stations, ensuring that more than 90 percent of the 426,667 hectares of farmland is irrigated.
• The city has invested 363 million yuan in building a pump station at Jiuyu Port, which effectively increased its water resource deposit and improved its water supply system.
• Nantong has sped up the pace of agricultural industrialization. The city has 1,200 medium- and large-sized agricultural enterprises, including three that have been listed on the Shanghai Stock Exchange. The annual output value of the enterprises exceeded 145 billion yuan.
• The city has worked out an innovative mechanism of farmland operation, which encourages service providers to carry out grain production on farmers' cropland and share profits with the farmers. The mechanism has benefited more than 100,000 households of farmers and increased their income by 520 million yuan.
• Nantong was named a national demonstration zone for modern agriculture and a national agricultural technology park early this year. The city's agricultural modernization level ranks first among cities in central and northern Jiangsu province.