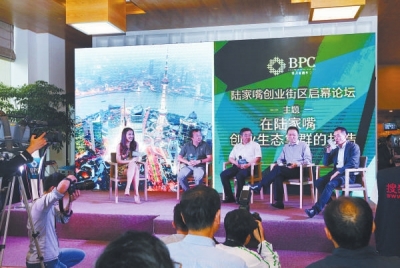 The launch ceremony of the 'financial street' [Photo/Pudong Times]
Lujiazui Trade and Financial Zone in Shanghai launched a 120,000-sq-meter 'financial street' for start-ups on July 7, the Pudong Times reported.
Jointly invested by China Xingyue Group and Yinyi Real Estate Co., the planned financial street is aimed at becoming a magnet for the Internet finance start-ups and newly-established private finance companies.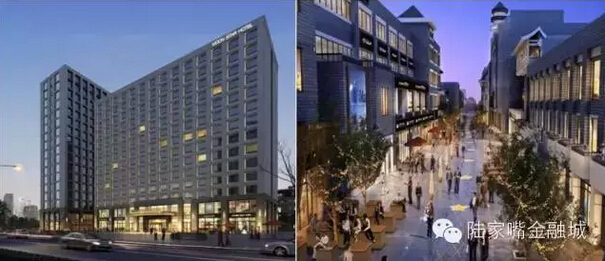 The effect pictures of the financial street [Photo provided to chinadaily.com.cn]
Some academic institutions such as the student start-up center at the NYU Shanghai, and the research institute of the PBC School of Finance, Tsinghua University (Tsinghua PBCSF) in Shanghai will also open centers in the new financial street, which enjoys geographical advantage and convenient transportation, according to Yang Zhiwei, the vice-president of Xingyue Group.
Zhu cited favorable government policies and resourceful character of the area as reasons for choosing Lujiazui to set up the financial street.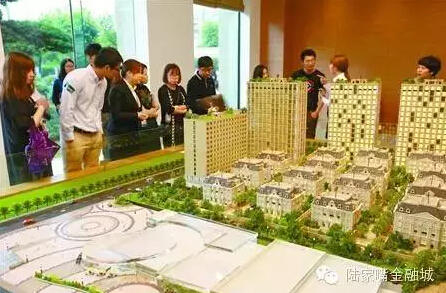 The model of the financial street [Photo provided to chinadaily.com.cn]
Apart from offices and departments, the financial street will also provide business start-ups with free libraries, roadshow centers, entrepreneur training camps, and start-up incubators.
As the first and only national-level financial and trade development zone, Lujiazui boasts a complete mechanism, infrastructures and environment for financial markets. According to statistics, up to 737 banking, stock-exchange, insurance and other financial institutions have settled in the area by April 2015, including some major establishments such as the central bank's Shanghai headquarters, Shanghai Stock Exchange, Shanghai Futures Exchange and China UnionPay.
Edited by Mevlut Katik