More than 100 paintings by 18 outsider artists will appear at the Nanjing week at Expo Milano 2015 in July. The 18 painters are first outsider artists in China signed by artistic organizations, enabling their works enter the art market.
The Nanjing Tiancheng Outsider Art Center was established last May and is a non-profit organization that gives people who are suffering or have suffered from mental disorders a chance to paint. The center currently has 35 members.
"We prefer to call them painters. Almost all painters here never learned to paint before and we just give them the painting tools without any technical or professional guidance," said Guo Haiping, the founder of the center.
Participants at the center can paint better as long as they are free to do it, and their works are pure, because they are without "intervention", according to Guo.
Outsider art is not as common in China as it is in other parts of the world. Professionals in the fields of psychology, art and medical science must cooperate if outsider art is to improve in China, Guo added.
One hundred works by the 18 painters were first displayed in Nanjing on May 17, to coincide with the 25th Chinese Day of Persons with Disabilities. At the exhibition, 25 works were sold for 60,000 yuan ($9,678) and some received bids of 100,000 yuan by two collector groups.
The term outsider art was coined by art critic Roger Cardinal in 1972 as an English synonym for art brut (French) - a label created by French artist Jean Dubuffet to describe art created outside the boundaries of official culture. Dubuffet focused particularly on art produced by people considered to be on the outside of the established art scene, such as psychiatric hospital patients and children.
Typically, those labeled as outsider artists have little or no contact with the mainstream art world or art institutions. Often, outsider art illustrates extreme mental states, unconventional ideas, or elaborate fantasy worlds.
Outsider art has emerged as a successful art marketing category in the western world. The annual Outsider Art Fair has taken place in New York since 1993 and there are at least two regularly published journals dedicated to the subject. However, it hasn't had a mature market and extensive public recognition in China.
Li Ben
Li Ben, 52, has recovered from schizophrenia. He free draws first, and then searches for images in his free daub. He delineates the images and polishes them up. It helps Li to untangle depression and find his inner world. "It helps with psychotherapy," said Li.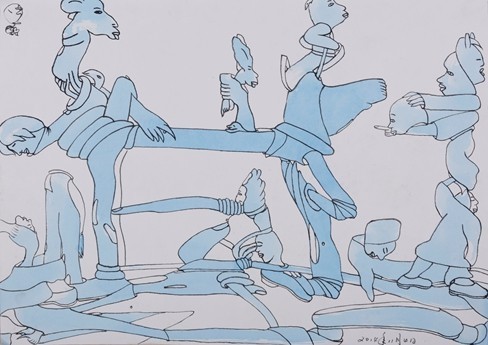 Unconsciousness 2, 37x39, watercolor, 2014. [Photo from weibo of Tiancheng Outsider Art Center]
Ba Zi
Ba Zi, 32, has enjoyed drawing since childhood and refused to receive painting training because the painting skills did not conform to his inner desires. Ba always tries to protect himself, leading to impaired social interaction.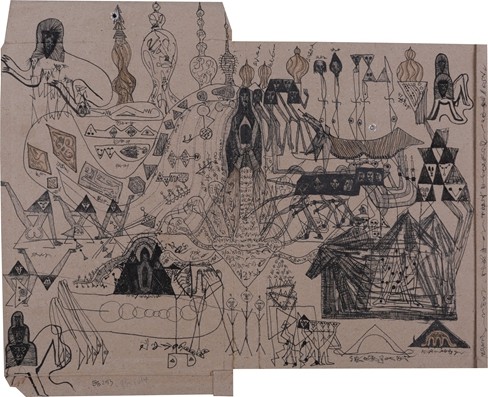 Ego-society and ego, pen, 50x40, 2013. [Photo from weibo of Tiancheng Outsider Art Center]
Pin Fang
Pin Fang, 20, was diagnosed with autism at 4. His paintings originate from pictures captured by his phone. Pin recreates the images by following his imagination and emotions. He likes to turn on the radio when drawing to avoid disturbances.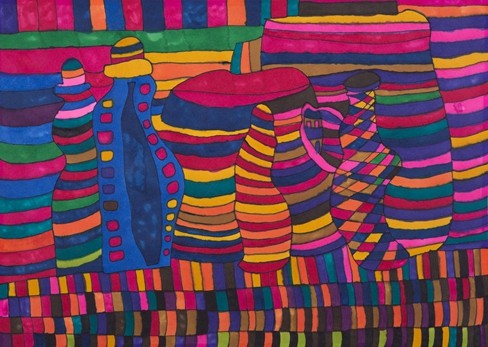 Inner scenery 41, 53x38, mark pen, 2014. [Photo from weibo of Tiancheng Outsider Art Center]
Tao Zi
Tao Zi, 25, is the only painter in the center who has received a professional painting education. Her works are skillful and contain her unique feelings and creations. Her paintings explain her wandering between her inner world and the reality, as well as conflicts and contradictions.
She started to draw mechanical animals half a year ago. On the one hand, she would like to stay with animals. On the other hand, animals in the world have been transferred into mechanical ones, which make her uncomfortable.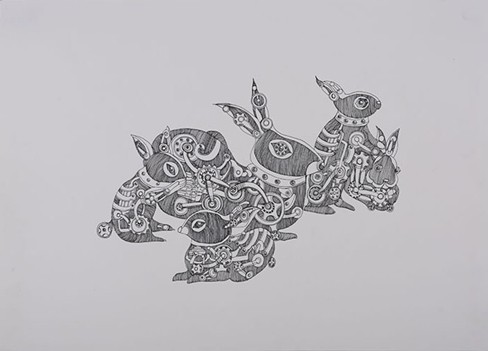 Rabit, 53x38, fountain pen, 2014. [Photo from weibo of Tiancheng Outsider Art Center]