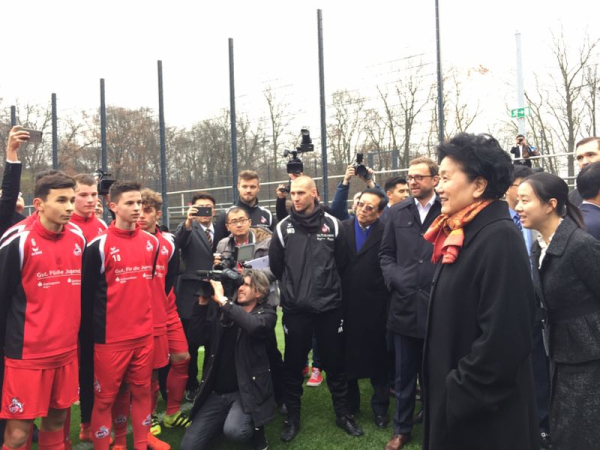 Vice-Premier Liu Yandong exchanges with young football players last Friday during her visit in Germany.[Photo By Fu Jing/China Daily]
President Xi Jinping is a soccer fan and so is German Chancellor Angela Merkel, and during the past three years, they have been making consistent efforts to expand their two countries' soccer partnership.
During his first trip to Germany as Chinese president in early 2014, Xi met young Chinese soccer players who had been trained in Germany. Andwhen Merkel visited China this June and September, she even discussed with Xi how they might explore more soccer cooperation.
The efforts have paid off. Last Friday, when Vice-Premier Liu Yandong visited Germany, the Chinese and German governments, their soccer associations, and leagues formerly entered into agreements to deepen cooperation. Merkel met the Chinese delegation and had up to one hour of talks with Liu, during which much interest was directed toward soccer.
Against the backdrop of a tough international situation, and Germany and the European Union's recent hardening stance against China's investment and trade, it is laudable that the two countries are exploring a fresh frontier for bilateral relations.
China aims to participate in the World Cup and would like to host the competition one day and even win it. The fact that its soccer development still has someway to go to achieve these goals has motivated China to seek help.
Starting with its kids. For example, one of China's goals is to prepare a reservoir of 50,000 soccer coaches in schools and set up 15,000 soccer schools nationwide by 2020.
Germany has helped China achieve its economic takeoff by investing, trading and exporting its high-tech know how for years. Having won the World Cup four times, Germany is also a natural partner to help China achieve its soccer ambitions.
Germany is likely to get the opportunity to train Chinese school coaches or even send their own coaches to some of China's schools.
Of course, China's leaders believe the promotion of soccer goes far beyond the goals related to the World Cup. And soccer cooperation between China and Germany can produce other opportunities for them to tap.
China boasts 500 million soccer fans and many support German teams. A long chain of business opportunities offering fun and enjoyment for the fans are waiting for China and Germany to explore.
On the hardware side, China plans to construct 70,000 soccer pitches by 2020. In addition, it is also ready to allow private and foreign investors to get involved in soccer development funds. Germans could also explore the business opportunities in helping China realize these aims.
Nowadays, the majority of Chinese people are seeking to improve their quality of life and are willing to invest time and energy in leisure and sports. And parents are encouraging their kids to follow sports or play them. So China and Germany could even exchange ideas about how to improve quality of life through the promotion of sports.
While entering into the agreement, Merkel jokingly expressed worry that Germany was helping to cultivate a competitor in the soccer world.
But Germany should not worry. There are many advantages for the country. Basically, there are no global or EU regulations that restrict Germany from exporting soccer coaches, experience, and management professionals to China. However, Germany will have to compete with other countries. Within Europe, Italy, France, the UK, Spain, Portugal, and even Poland and the Czech Republic can compete with Germany for soccer opportunities with China. And other rivals exist in Africa, South America, and Asia.
Such competition is valuable as nations work with China as it strives to attain its soccer goals.
The author is deputy chief of China Daily European Bureau. fujing@chinadaily.com.cn