Never lie to a Chinese woman!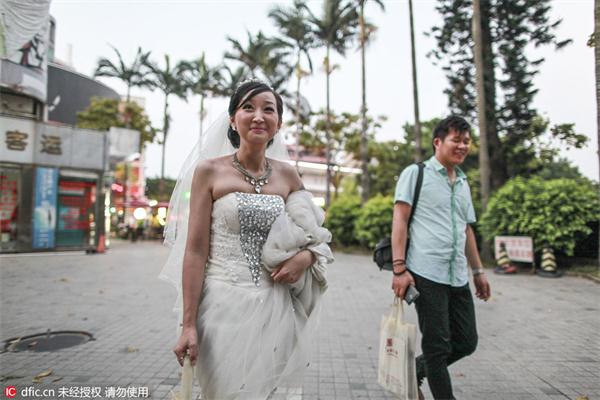 Xiao Delan, the former wife of a gay man, plays a bride to raise social awareness of the wives of gay men during an activity in Wuhan, capital city of Hubei province, July 2, 2014. [Photo/IC]
I'm going to tell you a brief story that is emblematic of the timeless misunderstanding between a man and a woman and even more when it involves a Western man and a Chinese woman.
Haakon is a Norwegian professional working in insurances activities, a middle-aged man, well educated.
A year ago, during a lengthy exchange of views on the ultimate meaning of life, I praised the qualities of the Chinese women, at least, those – in my opinion - that could be helpful to structure a solid relationship. Apparently, my arguments were relevant.
- Could you please arrange an appointment for me? he said.
That is how, three weeks later, he landed in Beijing.
Beyond the guided sightseeing tours, the main purpose of his trip was to start a relation with a Chinese woman. At this stage, he hadn't a clear picture of his future. Backed by his innocent soul, he wanted to go forward in life, that's all!
Thanks to my friendly support, a blind date was set up in a high-end restaurant with a hardened single Lady, Jing, 34.
Jing is a very elegant woman fond of reading and art, sometimes naïve, sometimes fragile, sometimes stubborn, but always brave and sincere in looking for her soul mate. That is all well and good but in China, the women of that age are called shèngnǚ 剩女 or "leftover women" that is often pejorative and highlights maybe a failed life.
For their first meeting, Haakon was gentle, generous, active, strong-willed with a Nordic style sense of humor.
By the way, my friend had a fondness for poetry.
During the meeting, he recited by heart, the voice full of emotion, verses from Henrik Ibsen "Wild Duck". As Haakon explained, the poem tells the story of a young man who insists on pursuing the absolute truth as an Ideal.
Listening to him brought tears to the Jing eyes, a shivering heart.
This very day, she promised herself that she would do everything possible to marry him, the sooner the better.
Haakon had, she thought, the best credentials to provide her an endless love.
But before there is a question that should be asked to him, just a mere formality!
- Are you married? She asked.
- What do you think?
- No!. She replied with no hesitation.
Jing was almost jumping for joy that she didn't listen Haakon inaudible whisper. Having waited since so many years the Prince charming, she wasn't in a position to hear something different.
"When people talk, listen completely. Most people never Listen" warned Ernest Hemingway.
The second meeting took place in a gourmet restaurant.
By then, Jing was extremely happy. She wore her best dress and a very beautiful necklace.
It is time, she thought, to set the long-awaited date of their marriage, the dream of her life.
She clasped him tightly in her arms and said joyfully:
- During the fall time in the Jiuzhaigou Valley, the Valley of Nine Villages, the beautiful colors of the trees will give us faith and a strong belief for the future. We will have our wedding ceremony in the Zharu Buddhist monastery. And then, we will dominate the world from the Huánglóng scenic place.
- There is a problem, Haakon whispered, I haven't finished yet!
- What do you mean?
- I have got something to deal with. It is a question of time, I mean, of months.
- What's that?
- Nothing really special. What happens so often in my country, almost a normal situation! He smiled with a trustful spirit.
- I don't get it!
- Do not worry about! I am confident that the court will issue the decree of divorce in summer.
Suddenly he saw that tears were flowing down her cheeks. She was shaking and gasping for breath and beginning to suffocate painfully. At the end, she wept hot tears endlessly.
The compassion of Haakon for her weeping was intense but the game was over.
Slightly recovering, Jing said straightforward:
- Is that your ideal, tell a lie? How could I trust you? According to this, do you really think that you deserve a second chance? Well, you understand nothing about the Chinese women! Nothing!
Then she left instantly the restaurant like a war machine.
The day after, Haakon returned to his home country, soundless and scarred.