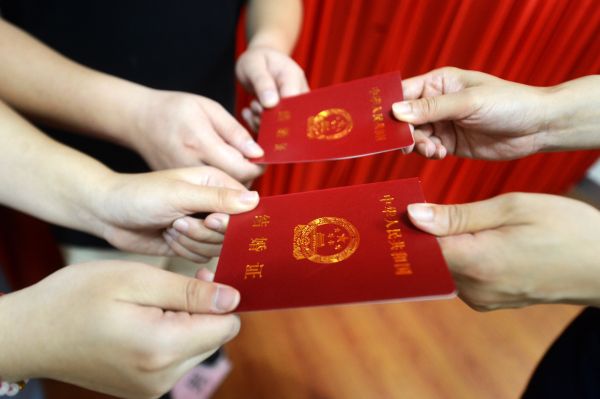 China's marriage certificate [Photo/Xinhua]
Among around 50,000 respondents, more than 70 percent of married Chinese people repent their marriage, of which females (76.6 percent) outnumber males (59 percent), according to an online survey recently published by Tencent, China's internet conglomerate. Southern Metropolis Daily commented on Monday:
Underlying the astonishing figure is a more terrifying fact that most Chinese couples in their 20s and 30s are not happy with their marriage, in which at least one of them suffers in silence. Many even admitted in the survey that they cheated on their partner before or after their marriage.
The finding seems a bit inexplicable to some, especially in a country with long tradition of advocating stable marriages and family values. Yet, it is understandable considering a number of young Chinese lack of the ability to build up and maintain an intimate relationship nowadays.
In the light of psychology, adolescence is arguably the most important period for youths to cultivate personalities and improve their communication skills. However, Chinese teenagers are often overburdened with loads of assignments and examinations, and banned from taking part in post-class activities, needless to say a romantic relationship.
According to a report on international studying ability released by the Organization for Economic Cooperation and Development last week, middle school students in Shanghai top the list when it comes to their performance in math, science and reading. Meanwhile, there is a popular "match-up market" in the metropolis where parents would exchange information looking for a potential partner for their unmarried children.
In other words, many youngsters have little experience of maintaining a relationship during their early years, which explains why some would easily resort to divorce without even trying to fix the post-marriage problems.
Increasing pressures following the soaring property price, education cost and poor food quality, to some extent, add to young people's dissatisfaction with their marriage too. In this regard, marriage is truly like a fortress besieged: those who are outside want to get in, and those who are inside want to get out.