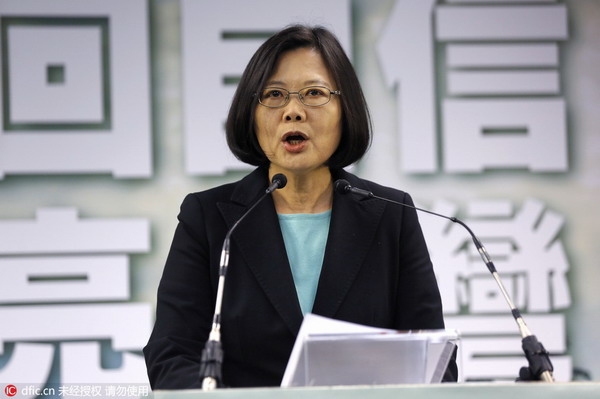 Taiwan's main opposition Democratic Progressive Party, DPP, Chairperson Tsai Ing-wen speaks during a press conference in Taipei, Taiwan, Wednesday, April 15, 2015. [Photo/IC]
The number of Chinese mainland visitors to Taiwan keeps shrinking even with the mainland's weeklong National Day holiday being round the corner.
When Ma Ying-jeou was the leader, the island used to be a popular holiday destination for many mainland tourists. The situation changed soon after Ma's successor Tsai Ing-wen, known for her equivocation on the 1992 Consensus and the one-China principle, assumed office on May 20.
Last week, more than 15,000 workers from the hospitality and tourism industries took to the streets in Taipei, demanding the island authorities change their policies, in order to help the ailing industry. Even if the number of tourists from the Republic of Korea increases by 100 percent, it cannot make up for a 5 or 10 percent drop in mainland visitors, according to a spokesperson for Taiwan Travel Agent Association.
The number of mainland tourists visiting the island on group tours reportedly fell 8 percent from January to July, affecting the island's economy and people's livelihoods. For example, many tour guides now face unemployment, and their monthly income can be as low as only one-fifth of what it was while Ma was in office. That's why tourism and hospitality workers took to streets to urge Tsai to honor the 1992 Consensus.
In response, Tsai and her Democratic Progressive Party came up with the "new southward policy" encouraging the island's tourism sector to tap the markets in Southeast Asia, in a bid to fill the void left by mainland tourists.
But such a move is no more than a wishful thinking, and will make little difference to the shrinking tourism and hospitality businesses on the island. It will take more than lip service to transform the tourism sector. For example, of the over 37,000 local tour guides, nearly 30,000, or 78 percent, mainly speak Chinese. So they are not ready to provide tailor-made services to visitors from Southeast Asia.
Besides, tourists from the mainland are irreplaceable for the island's tourism and hospitality sectors in terms of their number and consumption capacity. A record 4.15 million mainland residents visited the other side of the Taiwan Straits last year, making up almost 40 percent of all tourists to the island and contributing nearly 230 billion new Taiwan dollars ($7.3 billion) to its economy.
It is estimated that the drop in the number of mainland visitors will cost the island at least 36 billion new Taiwan dollars this year. Since further slump in the number of mainland visitors is feared, Tsai needs to review her "new southward policy", for it intends to sacrifice the lucrative mainland market.
About 133 million mainland tourists are expected to travel abroad in 2016, up 11.5 percent year-on-year, says a report issued by the China Tourism Academy and UnionPay International earlier this month. Destinations popular with mainland residents, including Japan and the ROK, have done everything possible to attract more mainland tourists, while Taiwan seems determined to go the other way.
Tsai's "look south" policy is unlikely to rid the island's tourism sector of its sufferings. Early October is the mainland's traditional travel season. This year, it could see the beginning of a tourism crisis for Taiwan if more mainland holidaymakers spend the weeklong holiday elsewhere. It is time Tsai changed her stance on cross-Straits ties to revive the island's tourism sector.
The author is a professor at the Institute of Taiwan Studies, Beijing Union University.