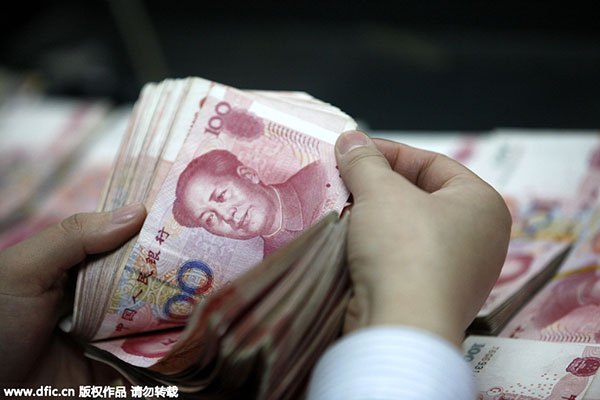 A Chinese clerk counts RMB (renminbi) yuan banknotes at a bank in Huaibei city, East China's Anhui province, January 22, 2015.[Photo/IC]
DATA FROM THE Ministry of Human Resources and Social Security show the average monthly income of migrant workers mainly engaged in manual labor was 3,072 yuan ($461) in 2015, while college graduates were earning a monthly average of 3,726 yuan six months after leaving campus. This shows the gap between those with and without college diplomas is shrinking. China Youth Daily comments:
Many people criticize college graduates for expecting higher salaries than migrant workers, saying their attitude is discriminatory. Such criticism is groundless. When a family spends huge amounts on its children's higher education, it will expect them to get well-paying jobs.
It is unfair to equate white-collar workers with their blue-collar counterparts. If a college diploma does not get a good job and social position, people will hesitate to send their children to college, which in turn would undermine the authorities' efforts to improve the educational standards in China.
However, that does not mean college students should necessarily get higher salaries than migrant workers. The demand-supply principle, not college diplomas, should largely decide an employee's salary.
The number of college graduates has been rising with each passing year, reaching 7.49 million in 2015, almost nine times that of 847,000 in 1999, when colleges started expanding. Since white-collar jobs have not increased at the same pace, college graduates have to compete with their peers to get one, and employers could easily compel them to settle for a lower salary.
During the same period, the number of blue-collar workers declined. For example, since 2008, labor-intensive enterprises in the Yangtze River and Pearl River delta regions have been complaining about the shortage of workers. As a result, blue-collar workers' salaries have been rising.
Therefore, it is not surprising to see the gap between the incomes of college graduates and migrant workers narrowing. Similarly, one should not be surprised to see college graduates seeking higher salaries.