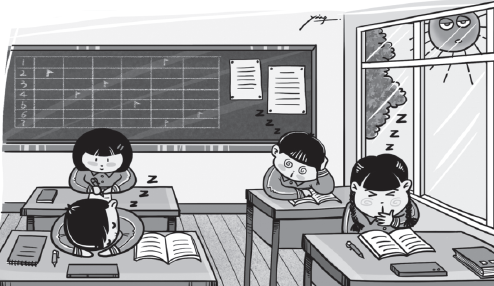 WANG XIAOYING/CHINA DAILY
The education authorities in Changsha, Central China's Hunan province, have decided to start local primary schools from 8:30 am instead of 8 am to ensure students get 10 hours of sleep. The decision was welcomed by many parents because it is aimed at improving children's health. In an online survey conducted by China Youth Daily, only 9.5 percent of the 2,005 respondents disagreed with the decision.
Different from some other local education authorities that tried to change school timings but failed to do so because of parents' opposition, the Changsha education officials held a public hearing before making the decision. This shows we have to establish a more open decision-making mechanisms to solve educational problems, because arbitrary decisions could face public opposition.
Starting schools later than usual will ease students' academic burden and ensure they get enough sleep. But it could also create problems for parents. Families in different cities and regions may have different views on the issue, so education authorities should not make arbitrary decisions. Many parents are opposed to such a move because it would be difficult for them to arrange their work.
We cannot expect all stakeholders to agree to a decision, but as the online survey in Changsha shows, if the majority supports the decision, it can be more easily implemented. Without holding a public hearing or conducting an opinion poll, it will be difficult to implement policies or win public support.
Arbitrary administrative decisions have frequently exposed the loopholes in school managements. For instance, in 2011 Tsinghua University accepted a donation from apparel maker Jeanwest in exchange for naming one of its teaching buildings after the company without seeking the opinions of teachers and students. Eventually the university had to change its decision after some teachers and students opposed the move.
Foreign universities have specific procedures for accepting donation. Donation-related issues are discussed openly, and teachers' and students' opinions are sought before the university board makes a final decision. So long as the decision is based on the support of the majority of stakeholders, it can be implemented without much opposition.
The Changsha education authorities have set a good example by making a decision after seeking the opinions of the stakeholders, including the parents of children. But authorities in other cities and regions have to ensure that parents from different areas attend such hearings before making such a decision, because traffic conditions vary from place to place, as do the work schedules of parents.
Besides, the change in the school hours will not come as a big relief for students, because the main reason for their heavy academic burden is the unbalanced distribution of educational resources.
China has issued the draft of its national education plan, which highlights the need for a scientific decision-making procedure and listening to public opinion for developing a modern education system.
But an open education management system is needed to ensure scientific, reasonable and balanced distribution of educational resources, and only then can students' academic burden be truly eased.
The author is deputy director of the 21st Century Education Research Institute.