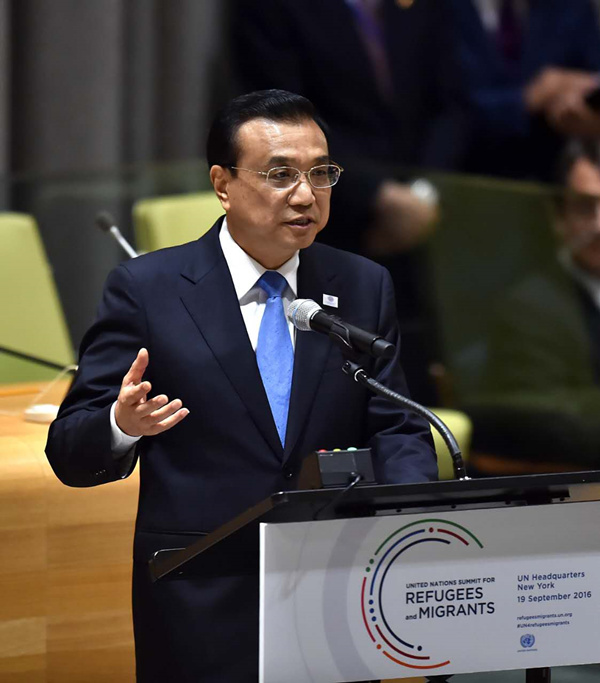 Chinese Premier Li Keqiang speaks at a high-level meeting on addressing large movements of refugees and migrants at the United Nations General Assembly in Manhattan, New York, US September 19, 2016. [Photo by Zhao Huanxin/chinadaily.com.cn]
Perhaps no issue on the global agenda is more susceptible to manipulation by grandstanding demagogues than refugees and migrants. "Us" versus "them" is a timeless if irresponsible unifier, used throughout history to obscure our common humanity by those with dangerously self-serving interests. The difference now is that more people are on the move than ever before, and in an era when storylines spread with viral speed, we see xenophobia rising and too often erupting into violence.
This week's United Nations Summit for Refugees and Migrants represents a breakthrough at a breaking point. With so many shrill voices dominating the debate, governments from around the world are responding in measured tones that can yield real results if promises are kept.
The summit marks the first-ever gathering of top leaders to discuss refugees and migrants. It adopted a groundbreaking consensus agreement: the New York Declaration. Fittingly, that document honors a city renowned for its vibrant diversity-symbolized by the Statue of Liberty standing tall in New York Harbor. Most importantly, the declaration sets a principled and pragmatic approach for addressing the challenges of people on the move while upholding our most cherished values.
The stakes are high. There are 244 million migrants in the world. More than 65 million people are now forcibly displaced. Half of them are children. Refugees running for their lives too often face grave dangers on their journey to safety. When they arrive, many suffer discrimination and even detention. Facing difficulties in a mobile world, they often travel farther in search of safety and stability. But legal pathways are scarce, and unscrupulous smugglers take advantage, charging exorbitant sums for a risky chance to escape.
Wars are lasting longer and refugees are finding it harder to return home-with the length of displacement in some cases stretching across generations. Contrary to prevailing impressions, the vast majority of refugees are not in rich countries; 86 percent are in the developing world. And the poorer countries hosting refugees do not receive nearly enough help. Last year, UN humanitarian appeals received barely more than half the funds that were sought.
Resettlement options are also a fraction of what they should be. Nearly 1 million people were identified as needing resettlement in 2015, but just over 100,000 received it.
The challenges are enormous-but we should not forget the benefits. With the right approach, refugees and migrants can bring benefits to both their adoptive societies and their home countries. This well-documented upside should not be lost in the debate.
The New York Declaration should be seen in the wider context of new and ambitious international efforts to improve conditions where people live so they are not forced to leave. Central to this is the 2030 Agenda for Sustainable Development, our global plan for peace and prosperity on a healthy planet. We are also pushing to prevent and resolve conflicts-and to sustain peace once the guns fall silent.
The summit will feature testimony from those directly affected. I am especially looking forward to meeting again with an extraordinary young woman I first encountered last month at the Olympic Games in Rio de Janeiro.
Yusra Mardini is Syrian-but she competed on the new refugee team formed for athletes who, like millions of other people around the world, have been forced out of their homelands. Before she swam in races, Yusra was in a race to save lives.
Last year, she left Syria on an overcrowded boat. When its engine died, she dived into the Aegean Sea and started pushing the vessel, along with a few other swimmers among the group. It took a gruelling three hours to reach the shore. They arrived exhausted-but they had proven the power of human solidarity to ferry us to safety.
Humanity is together in one boat. Stoking fear, blaming the "other" or scapegoating minorities will only increase the dangers for all.
Wise leaders understand that we should instead endeavour to save everyone, optimize the contributions of each, and steer our common ship to our shared destination: a future of opportunity and dignity for all.
The author is secretary-general of the United Nations.