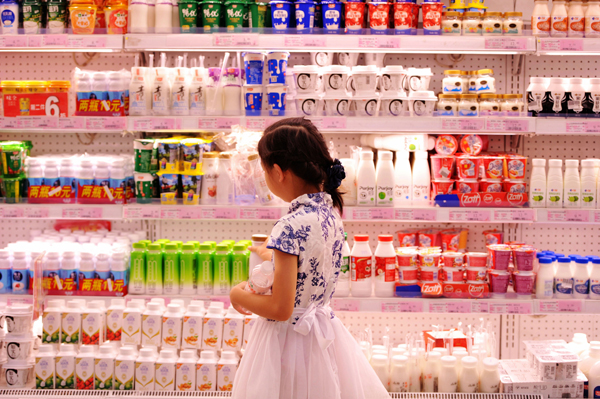 A girl chooses diary products at a supermarket in Qingdao, East China's Shandong province, August 9, 2016. [Photo/VCG]
More than half of China's dairy farms are reportedly incurring losses because of a steady decline in dairy product prices since early 2015. In March, the number of cows in stock dropped by nearly 12 percent year-on-year. And some dairy farmers culled their cows or fed unsold fresh milk to pigs to reduce their losses.
Chinese dairy farms are facing this problem because their products, despite being overstocked, cost more than imported ones. Imported milk powder, for example, reportedly cost 18,000 yuan ($2,700) per ton on average, while the domestic varieties can cost as much as 30,000 yuan a ton. Compounding the dairy farms' problem is the falling consumption of dairy products in China. The average annual increase in the sale of milk was 11.1 percent from 2006 to 2010, but it dropped almost by half during the next five years.
The oversupply of milk seems weird in a country where the per capita consumption of dairy products is only one-third of the world's average. With more than 10 million cows in stock last year, the production of fresh milk and dairy products reached more than 38 million tons and 27 million tons, making China's output of dairy products the third-largest in the world.
The prices of dairy products, like that of other animal husbandry products, lack elasticity. In other words, the dairy industry experiences periodic cycles-from cutting prices because of overstock and culling cows to reduce losses to increasing milk price and repurchasing cows, and ending with another round of overcapacity.
Selling milk is arguably the trickiest part of the dairy industry's chain. Chinese dairy farmers will suffer when exported milk cost much less than that produced domestically. Besides, many consumers have become skeptical of domestic dairy products after the 2008 scandal-infant formula adulterated with melamine that left at least four babies dead and thousands seriously ill. And thus people are more likely to buy foreign milk products, especially for infants.
However, that does not mean China's dairy industry is doomed, because among the rural population, which accounts for almost half of the country's total, only a few have the luxury or the habit of drinking milk. Their demand remains untapped and could be huge.
What Chinese dairies should do is to restore customers' faith in their products. Especially because the quality of domestic milk products has improved substantially. About 99.67 percent of the dairy products measured up to government standards last year, and no illegal additives, such as melamine, have been detected in fresh milk over the past seven years, according to a report issued by the Dairy Association of China in August. To convince consumers of this reassuring change, the dairy industry has to use effective promotion.
Better management and streamlined operations are important, too, in resuscitating China's dairy market. To do that, dairies have to optimize the division of labor, more closely integrate dairy farming and production, and provide proper training to dairy farmers. The establishment of the D20 Alliance, comprising 20 leading Chinese dairy companies last year, is a promising start in this direction.
It is also worth noting that China's dairy farming is undergoing a change that will see the exit of small dairies which only own a limited number of free-range cows. Offering dairy insurance and subsidies to the struggling farmers, or erecting trade barriers against imported dairy products, will make little difference to the market's decisions.
The author is a professor at the School of International Trade and Economics, University of International Business and Economics.