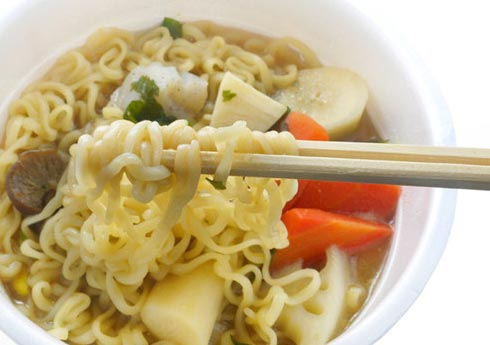 A bowl of instant noodles. [Photo/Agencies]
There is no need to cry over the falling sales of instant noodles, for decades of robust economic growth have made Chinese consumers wise enough to shift to healthy diets and lifestyles.
A recent Bain & Company and Kantar Worldpanel report shows annual sales of instant noodles in China dropped by 12.5 percent in 2015. Yet it is premature to conclude that this is clear evidence of upgraded consumption in China, because the downward pressure on economic growth and skyrocketing housing prices in big cities are eating into Chinese people's incomes.
A close look at the underlying causes of the decline in the consumption of an iconic fast food item may help policymakers come to grips with imminent economic challenges that they cannot afford to ignore. In a country where people have long seen food as manna, the surging popularity of instant noodles since the early 1980s has made it one of the most telling footnotes to China's remarkable reform and opening-up history.
As hundreds of millions of Chinese farmers left their homes in search of better prospects in cities and people across the social divide seized every opportunity to get rich, the time-saving instant noodles, also called "convenience noodles", more or less became the choice of almost every one. At the height of their sales, Chinese consumed 48.38 billion packets of instant noodles in 2011. In other words, on average every one of the 1.3 billion people in China consumed three packets of instant noodles a month that year.
But gone are the days when precooked noodles were considered a luxury product. In the early years of reform and opening-up, when the country was yet to bid farewell to economic shortage, instant noodles of various flavors were the mainstays of college dormitories and long-distance trains' pantry cars.
The introduction of bullet (or high-speed) trains to the railway fleet has largely reduced passengers' need to make do with instant noodles on trains, either because the traveling time is shorter or because pantry cars offer proper food. And the booming online service allowing people to order takeouts has tremendously expanded college students' choice beyond instant noodles.
At a time when more and more people are likely to believe in "you are what you eat", it is not surprising to see consumers shying away from "convenience noodles", because they are not deemed healthy.
But other possible explanations for the fall in the sales of instant noodles might be cause for concern as policymakers try hard to steer the world's second-largest economy through growing domestic and global uncertainties.
On the one hand, as a kind of food that has been catering to blue-collar workers, instant noodles' dropping sales may indicate that many manufacturing jobs are moving to countries where labor costs are lower amid the stalling growth of China's trade. One the other hand, the fall in the sales of instant noodles may indicate the shrinking supply of working-age migrant workers who were their most loyal consumers.
If these are the causes behind the falling sales of instant noodles, policymakers should pay close attention to them, and fix the industrial structural problems and meet the demographic challenges they reveal.
Though it is tempting to interpret the declining sales of cheap fast food as a sign of upgraded consumption patterns, policymakers should not ignore the looming impact of rocketing housing prices on consumers' purchasing power. If they want the consumption upgrade to continue, they need to take measures to prevent the red-hot property market from sucking too much financial resources away from most other economic sectors that have created the majority of jobs and incomes for Chinese consumers.