Is being single the new norm?
Editor's note: According to China's Ministry of Civil Affairs, by the end of 2015, the number of single young people has reached 20 million. Is being single becoming an acceptable way of life? What do you think about being single? Forum readers share their opinions.
vlwow (China)
This is a personal choice. If somebody wants to be single, then they can remain single. One thing which needs to be considered is that if you decide to be single, tell it to your parents or others who care about you, tell them truthfully your thoughts, why you have made that choice, so that they won't worry about you.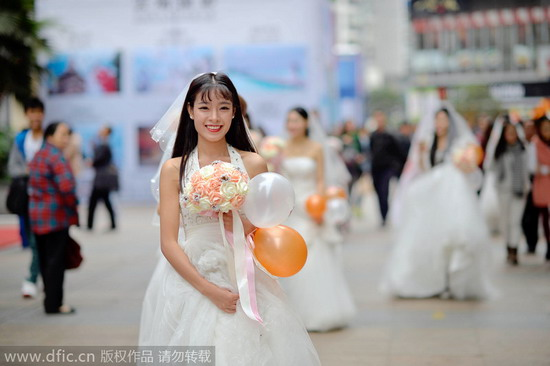 Single women dressed in wedding gowns walk at the Wanda Square before Singles' Day in Chongqing, China, on November 9, 2014. [Photo/IC]