China-LatAm: Ancient ties, modern vision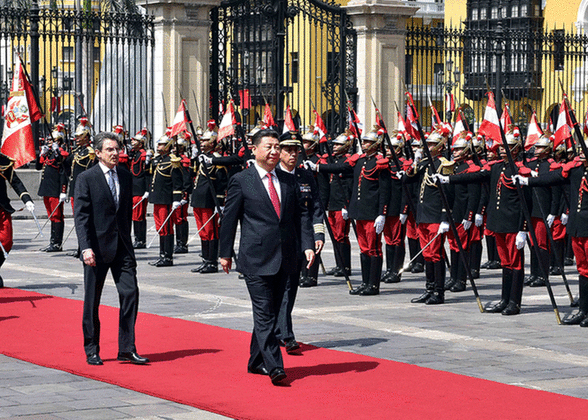 President Xi Jinping inspects a guard of honor in Lima, Peru, on November 21, 2016. [Photo/Xinhua]
In an earlier age and in a world less connected by technology, seafarers aboard Manila Galleons and others of their ilk blazed a trade route from China, through Pacific waters and to the Americas. Burgeoning demand for Chinese products, both exotic and luxurious, sustained a thriving flow of trade to Latin American lands. So when Chinese President Xi Jinping completes a three nation visit to that region this week, he is set to advance a storied commercial partnership. And in the backdrop of looming political and economic uncertainty in the United States, the potential for success in this engagement is critical.
Critical to China for reasons well known and long understood; transoceanic trade with a mineral rich region has long been the bedrock of Sino foreign policy. The fact that the region now houses a growing market for Chinese goods and investments has only elevated its importance. Equally, for the many countries in Latin America, the prospect of a thriving trade relationship with an ascendant economy holds perhaps the best hope of sustainable growth. In a sign of the importance ascribed to this partnership, CELAC or the Community of Latin American and Caribbean States has engaged frequently with China in recent years to boost the quality and quantity of trade.
Waning American interest in free trade has coincided with a marked increase in commercial, investment and trade opportunity for others. China alone has pledged to increase annual trade with the region to $500 billion and foreign direct investment to over $250 billion within the decade. No less significant than the commercial benefits of this partnership is the Chinese policy of nonintervention in domestic politics. Put otherwise, trade and diplomatic relations are not held hostage by demands for transparency in governance, eradication of illicit drugs or representative democracy.
President Xi's most enthusiastic reception was always likely to be in Ecuador so it is fitting that he began his tour with a visit to that country. There is of course a subtext to the enthusiasm and it is the fractious relationship between President Correa and the Obama administration. Ecuador hosts Julian Assange in its London embassy, at one point considered political asylum for Edward Snowden and has withdrawn from a preferential trade pact with the US—measures that have only strained an already difficult relationship.
The stop for the Chinese President is Peru and unlike Ecuador, it is a country focused exclusively on international trade and all its attendant benefits. Until recently, Peruvian authorities were pursuing the US led Trans Pacific Partnership or the TPP. Essentially a trade pact amongst Pacific Rim countries, the TPP is meant to provide a comprehensive framework for regional economic integration. Incidentally because it does not include China, the pact is also intended to act as a political bulwark against growing Chinese influence in the region. But all this was before the election of Donald Trump. US President-elect Donald Trump announced Monday that he will withdraw the United States from the Trans-Pacific Partnership on his first day in office. Without American leadership, the pact is a nonstarter.
For Peru then, the best available path to a free trade zone within Asia-Pacific appears to be membership in the Chinese led Regional Comprehensive Economic Partnership (RCEP). A free trade agreement between ASEAN member nations and countries with which they currently have FTA's, the RCEP does not include the United States or any country in Latin America. Peruvian participation in the pact is largely contingent on China's approval, so while it is not on the official agenda of talks for this visit, it remains a matter of interest for both countries.
Last on President Xi's itinerary is a visit to one of China's more prolific trading partners in Latin America. Chile has been home to a successful economy for some time now and at the very least, some of this success is due to its economic partnership with China. It continues to benefit from Chinese investment, the scope of which is likely to increase following a recent currency swap deal. And yet unlike many others, China's relationship with Chile is not entirely transactional. Chile has welcomed the flow of Chinese human resources in large numbers and has made concerted efforts to assimilate this work force in its society. And it is precisely this level of human engagement which is seen by many to be a harbinger of larger scale and more varied trade relations in the years ahead.
The Manila Galleon trade lasted for over 250 years and enriched many intrepid sailors, investors, speculators and traders engaged in it. Its decline started when China began trading directly with the major economic powers of the time, circumventing the city of Manila entirely. In a very real sense, the contours of China's economic engagement with the world are a lot like the period directly following the Galleon era. Goods have changed and shipping routes modified, but the desire to trade remains undimmed. In an uncertain age, this is surely a boon for an aspirational continent.
The contributor writes about global markets and geopolitics. He tweets @ahmed_ilahi
The opinions expressed here are those of the writer and don't represent views of China Daily website.