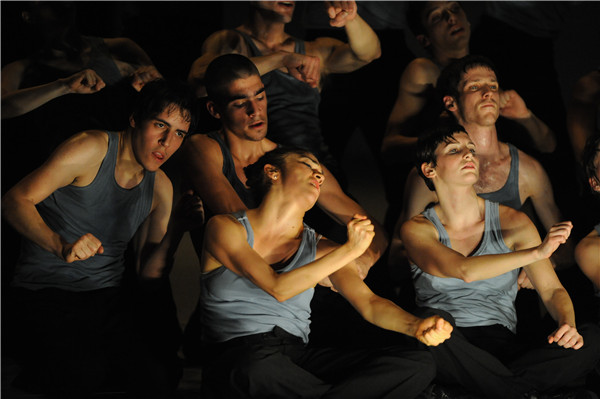 The ongoing dance festival at the National Center for the Performing Arts in Beijing includes Israel's Batsheva Dance Company's DecaDance, Zhang Jigang's dance drama Thousand-Hand Bodhisattva, Jin Xing's Shanghai Tango and New York-based Shen Wei's modern dance piece Folding (above). [Photo provided to China Daily]
A dance festival that started on Oct 9 and runs through Dec 11, is in full swing at the National Center for the Performing Arts in Beijing. It has been held annually for several years now and is surprisingly popular, says Jiang Dong, despite research showing dance generally trailing concerts and theater in attendance at the iconic egg-shaped venue.
"The choice of repertory is important," says Jiang, vice-president of the dance institute, a branch of the Chinese National Academy of Arts. "Audience acceptance is top priority." Two calling cards have been Yang Liping with her Yunnan folk dance and Lin Hwai-min with his Taiwan-based modern dance. The two are absent from this year's lineup, though.
Jiang does not think Yang and Lin represent the best in Chinese dance, but he admires their marketing skills. "That does not mean they pander to public tastes. They operate on a high artistic level, but there are other, equally good dancers who do not know, or care about, the art of selling." He cites Lee-chen Lin and her Legend Lin Dance Theater and Wang Mei of the Beijing Dance Academy. The former is not prolific and the latter has no intention of taking her work beyond the campus.