Are single-sex schools better than co-ed schools?
Editor's note: Single-sex schools are emerging, especially in some metro cities across China. Following the example of all boys' classes set up by Shanghai No.8 Middle School, Nanjing Huiwen Girls' Middle School, the only girls' school in Nanjing, opened on Aug 31. Are single-sex schools really beneficial?
TedM (UK)
In China there is a traditional and cultural perspective. At adolescence girls and boys do not mix comfortably. They are expected by parents and their peers to keep away from the opposite sex. This situation is extended beyond teenage years and has a very bad result. Boys and girls are socially ignorant about each other or what they like and need. As they are then encouraged to marry early in their lives, they fall for the first person to show interest in them. They have little experience of the opposite sex until after marriage! Social skills are learned through experience and imitation. Single sex schools enable little of this. Furthermore, such schools cultivate an obsession with the opposite sex which is not sensible or healthy. So, personally I think that mixed education is more broad and balanced, more natural and healthy.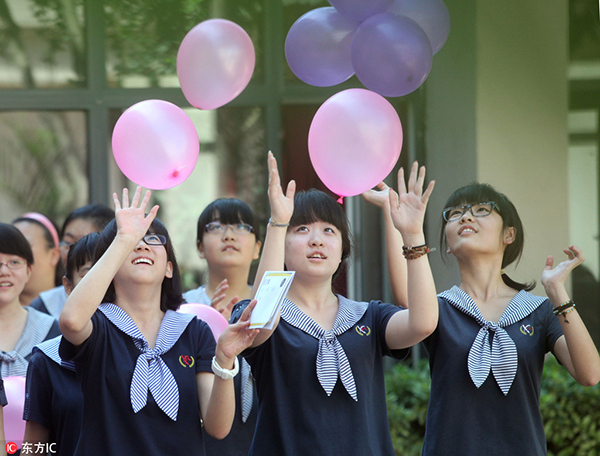 The female students in the only girls'class of Tianjin No. 11 high school celebrate graduation on June 27, 2016.[Photo/IC]