Are single-sex schools better than co-ed schools?
Ratfink (Australia)
When talking about Shanghai, male students are not exactly known for being alpha males by any means, at least not while they are in school. Indeed it could be argued that in many Chinese metropolises the high school and junior school boys are more effeminate than many of the girls. I agree that semi-coeducational systems probably work best for the majority. Being at a single sex school, while academically superior, is not always best for the student's socialization with the opposite sex.
I will give credit where credit is due. The school I attended was, in terms of teaching and getting the most out of the individual student, a wonderful place but there was a high price paid both socially in the short term and in some cases emotionally in the long term as quite a few of the staff would prefer to cane rather than enlighten, particularly while in the junior years of school life.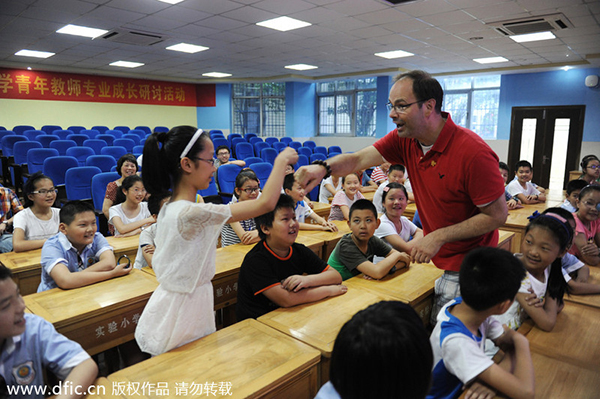 Stephen from the US interacts with students at an English class in Dongyang Experimental Primary School, Zhejiang province on June 17, 2014. [Photo/IC]