Engaging with US to make globalization great again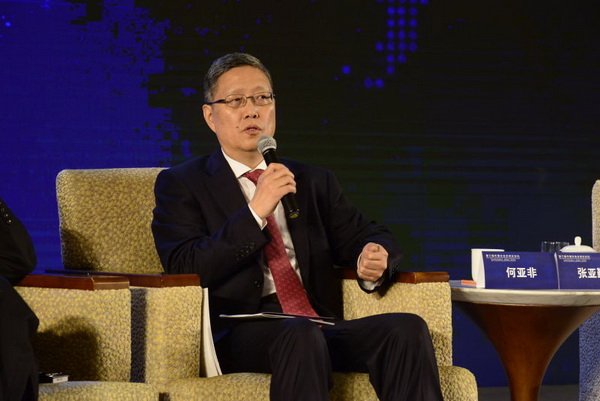 He Yafei, the Co-chair of Center for China and Globalization and former vice-minister of the Chinese Ministry of Foreign Affairs, addresses the 3rd Conference of China Outbound Investment Forum in Sanya city of South China's Hainan province, December 2, 2016.[Photo provided to chinadaily.com.cn]
There have been unprecedented upheavals in globalization and global governance in recent years culminating first in the British referendum to withdraw from the European Union and the recent election of Donald Trump to be the next president of the United States.
And these upheavals are gaining momentum in Europe too, from Italy to France and to Germany and beyond, affecting their political eco-systems and causing a social division so deep that it could override almost all the other traditional rifts along racial and gender lines.
This ripple effect is still being felt far and wide across the globe, baffling many, especially elites in US and other Western nations, as to how it happened and what it means for the future of US with its liberal democracy and economic neo-liberalism as well as the future direction of globalization.
Is America going into an isolationist mode and a continued worldwide retrenchment? Will American under Trump lead an anti-globalization movement that will cripple global free trade and investment? Will all this combine to induce or produce a roll back in globalization per se or rather usher in a new era of globalization with new paradigms?
At the same time, China is maintaining its fast growth momentum and its development model has caught the attention of many nations. With its expanding global influence China has taken on global governance with enthusiasm and determination.
In this regard, the G20 Summit in Hangzhou last September produced a shining report card with many new ideas for furthering globalization while overcoming its "negative impact" on social justice and fairness.
President Xi Jinping recently delivered a much welcomed speech at the Lima APEC Leaders Meeting outlining China's continuous efforts to promote global free trade and investment with particular reference to quicken the pace of negotiation on an APEC Free Trade Agreement, in view of a possible abandonment of TPP by Trump.
The US is no doubt a major moving force in the future of globalization as one American once commented that "globalization is Americanization".
There are two things that appear to be influencing the American engagement in globalization and global governance. The feeling that globalization is no longer on the track of "Americanization" is one, hence Trump's "America First" clarion call, presaging the new US administration to further change the rules in global economic governance, including jettison multilateral FTAs and renegotiate bilateral free trade agreements to have manufacturing return to America. It is a different story whether such efforts will succeed as advocated by Trump and Novarra.
The other is a continuation of overall American strategic retrenchment focusing on domestic political and economic agenda with an inward-looking approach to international affairs that started in early 2009 with Barack Obama and will supposedly continue under Trump.
On a positive note, we can rest assured that globalization per se will not disappear overnight or be rolled back at one stroke across the board because for the past several decades globalization has promoted global economic growth for all to an unprecedented degree and knit nations into an interlocked and interconnected web of networks with ever greater interdependence and common interests.
The question ought to be about "re-globalization" or "make globalization great again", rather than about the demise of globalization.
In other words, with Trump in power the world has entered a new era of globalization wherein global free trade and investment and international cooperation to tackle global challenges will face new paradigms and conditions. The US for all the talk by Trump can't wriggle itself out of the closely knit web of common interest with its partners both economic and political. To be fair, we do need to spend more efforts to address "global governance deficiency" in promoting social justice and fairness, such as narrowing the gap between rich and poor both domestically and among nations. Also, we need to start thinking in real earnest what to do about the relationship between capital and labor as suggested in the famous book "The Capital of the 21st Century" by French economist Pickety.