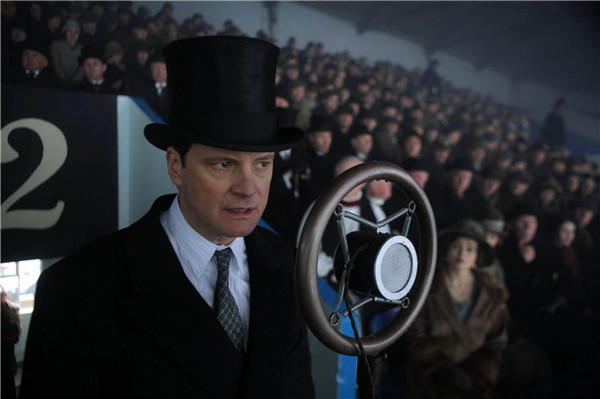 Colin Firth wins Academy Award for best actor for The King's Speech in 2010. [Photo provided to China Daily]
British actor Colin Firth dwells on the virtue of restraint in a wide-ranging conversation with Raymond Zhou on the art of acting. 
Colin Firth joked that he was looking for offers in Chinese films, adding that he hoped to work with Chinese directors Zhang Yimou, Feng Xiaogang, Chen Kaige, Lou Ye and Jia Zhangke, to name a few.
The light-hearted revelation came at the end of an hourlong talk, moderated by yours truly, which was designed to encompass the highlights of an illustrious career of the much honored British actor.
Titled "A Colin Firth Retrospective", the conversation was, in turn, part of a program for the 2016 China-Briton Film Festival held in the Beijing suburb of Langfang.
Firth received a lifetime-achievement award at this festival when it opened on Dec 12.
The 2010 Academy Award winner for best actor (for The King's Speech) did not randomly pick a few big names from China's booming film industry to please the host country. He did his due diligence.
He was impressed by how seamlessly American actors Tim Robbins and Adrien Brody fitted into Feng's epic tale on the 1942 famine. He liked Lou Ye's 2012 movie Mystery and, when I explained that Chen's Farewell My Concubine is widely viewed as the best Chinese film in history, he chimed in, saying it was one of the best in world cinema.
And he was plugged in to the latest in Chinese showbiz, aware of the publicity blitz whipped up by The Great Wall, Zhang's epic tale of fighting monsters on the best-known Chinese landmark, which would premiere in China in a few days. It is a Sino-US co-production that stars Matt Damon.