What is China's role in global governance?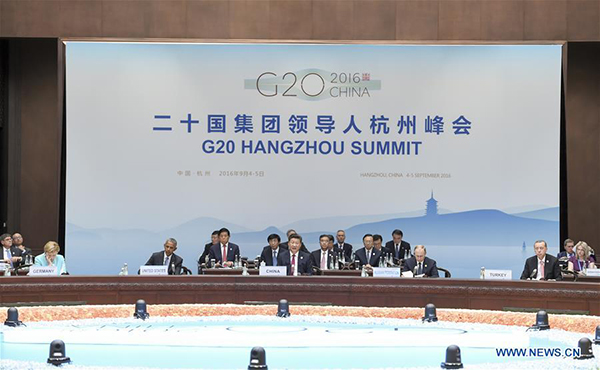 Chinese President Xi Jinping presides over the opening ceremony of the Group of 20 (G20) summit in Hangzhou, capital of east China's Zhejiang Province, Sept 4, 2016. [Photo/Xinhua]

With global governance struggling to deal with increasingly thorny issues, such as Brexit and the sluggish global economic recovery, globalization has been in retreat this year. Given this fact, China's intensified efforts to engage in global governance seem like a silver lining.
The successful G20 Leaders Summit in Hangzhou, East China's Zhejiang province, in September added weight to the multinational bloc's legitimacy as the premier forum on international economic cooperation. Following the summit, China's top leader Xi Jinping called for closer cooperation to reform the global governance system, and advance peace and development in the world.
Xi's remarks, made during a study session attended by members of the Political Bureau of the Communist Party of China Central Committee, show the Chinese leadership now better understands global governance and Beijing is ready to make more contributions to global governance.
It should be made clear, though, that China is committed to reforming, not changing, the existing global governance institutions, because they are in urgent need of an overhaul. And the increasing deficit in global governance highlights the need to push forward the reform.
China has made notable progress in this regard. The Chinese currency's inclusion in the International Monetary Fund's Special Drawing Rights basket of currencies on Oct 1, giving Beijing a bigger say in the reform of international financial institutions is a case in point. So is Beijing's ratification of the Paris Agreement on climate change.
China has also played a pivotal role in regional governance. Addressing the APEC Economic Leaders' Meeting in Lima, last month, Xi called on all parties concerned to help establish a Free Trade Area of the Asia-Pacific as an institutional mechanism to safeguard free trade in the region.
On China-Africa cooperation, the Chinese government has made extra efforts to implement the major cooperative deals sealed in 2015 as well as the UN 2030 Agenda for Sustainable Development. The Beijing-led Belt and Road Initiative (Silk Road Economic Belt and 21st Century Maritime Silk Road) and Asian Infrastructure Investment Bank, too, have gained fresh momentum this year. The AIIB, which opened for business in January this year with the aim of making global economic governance fairer, faces less opposition because 57 economies have become its members.
BRICS members, too, remain united and committed to their shared mission of improving the functions and management of BRICS New Development Bank. And the Regional Comprehensive Economic Partnership that China champions is expected to further promote free trade now that US president-elect Donald Trump is expected to scrap the so-called free trade deal, Trans-Pacific Partnership Agreement.
The coming year will see China holding a high-level international cooperation forum on the Belt and Road Initiative and the ninth BRICS summit in Xiamen, Fujian province. And even though Germany will occupy the G20 chair in 2017, China, as the chair for 2016, will remain a part of the troika leadership, as past, present and future chairs come together, to lead the bloc. It would thus be fair to say China will shoulder more responsibilities in global governance in 2017. But that does not mean China is eager to "fill the void" left by the West, as it is still a developing country. Of course, its future diplomatic priority will be to make global governance fairer, for which all the major players have to fulfill their commitments.
The author is a professor of international political economy at Renmin University of China and a distinguished professor of Global Studies at Zhejiang Normal University.