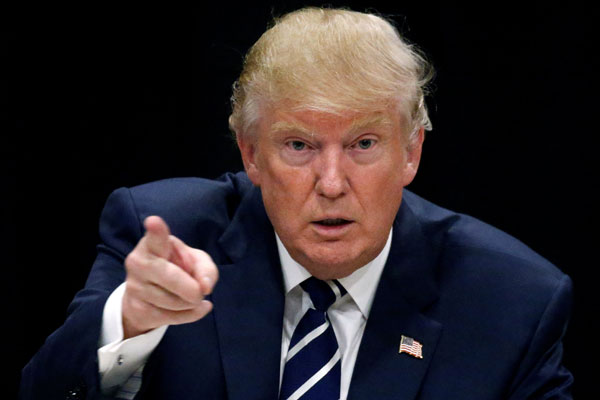 Republican Donald Trump appears at a campaign roundtable event in Manchester, New Hampshire, US, October 28, 2016. [Photo/Agencies]
When hearing US president-elect Donald Trump's recent irritating rhetoric on China, former French premier Jean-Pierre Raffarin, a veteran politician, was reminded of something similar in Europe not too long ago. It involved Nicolas Sarkozy, who served as French president from 2007 to 2012.
At the beginning of his presidency, Sarkozy challenged China's core interests by supporting Tibetan separatists and meeting the Dalai Lama. China reacted by canceling the EU-China summit and, in the depth of the global financial crisis, former premier Wen Jiabao pointedly excluded France during a European tour in early 2009, on his way to the annual Davos World Economic Forum.
It was Raffarin who brought China and France closer after Sarkozy's troubling moves. In a recent interview, Raffarin said Sarkozy went from being "unpredictable to predictable" and Trump is experiencing a similar kind of growth.
In saying so, Raffarin knows very well that neither the European Union nor the Unites States has fully recognized China's potential, instead they are resorting to protectionism and irrational tactics.
Fortunately, after Trump's inadvisable phone conversation with Taiwan leader Tsai Ing-wen recently, some European leaders have strongly opposed his move. German Chancellor Angela Merkel told journalists that Germany continues to stand by the one-China policy and will not change its position.
Having frequently visited China during her 11 years as German chancellor, Merkel has a deep understanding and respect for China's position, which has helped to pave the way for fruitful exchanges between the two countries.
Merkel's stance was also emphasized by French politicians. Last week, Foreign Minister Jean-Marc Ayrault called Trump's approach to China "not very clever". Ayrault told French broadcaster France 2: "There may be disagreements with China, but we do not talk like that to a partner. We must avoid getting into a spiral where things are out of control."
Hopefully, Trump will learn some statecraft from cross-Atlantic allies because many of them are veteran hands in dealing with China. They know very well what are the politically sensitive "bottom lines" that must be observed.
The recent comments from European politicians are encouraging because they suggest there's a chance that the EU could decide its foreign policy toward China independently of Washington if Trump adheres to the approach he has adopted as president-in-waiting, although it seems hard for the EU to do so at present.
For example, rather than fully honoring its commitments made 15 years ago when China joined the World Trade Organization, Brussels is still following Washington's lead and accepting the ideas of American think tanks, linking this to the solution of production overcapacity, which is a global problem and not just a Chinese one.
The EU, facing multiple crises, must assess which strategic partners have contributed most to the bloc's growth and prosperity in the past decades. In doing so, it is the duty of the EU leaders to look at China fairly and comprehensively. This would be of great benefit to the world, which is facing unprecedented challenges, uncertainties and risks, and needs increased commitments, solutions and actions to overcome them.
During its gradual reintegration into the world, China has been repeatedly urged by the West to play a responsible role in the international community. But it is crystal clear which player is the most responsible.
It is time for other players to play responsible roles and join China in upgrading their actions to tackle the myriad problems facing the world today.
And the bottom line is that Trump should be ignored if he insists on trying to be a troublemaker-this world is risky enough already.
The author is deputy chief of the China Daily European bureau. fujing@chinadaily.com