Another lesson for Trump in handling Sino-US ties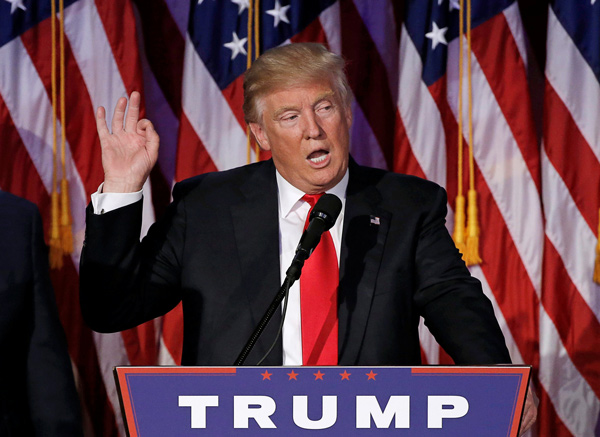 US President-elect Donald Trump speaks at election night rally in Manhattan, New York, US, November 9, 2016. [Photo/Agencies]
"China steals United States Navy research drone in international waters-rips it out of water and takes it to China in unpresidented act," Donald Trump tweeted on Saturday.
The post went viral thanks mostly to the obvious misspelling. But what is truly amazing about this tweet, was the soon-to-be US president completely misrepresented what had actually happened-that is more dangerous than funny.
To set the record straight, the Chinese Defense Ministry gave an outline of the incident:
A Chinese naval vessel discovered an "unknown device" in the waters where it was sailing and "conducted investigation and verification" to "prevent it from endangering the safety of passing ships and personnel". After identifying the underwater drone as a US asset, they "decided to return it" "in an appropriate manner". The two sides have been "in communication all along".
The Pentagon knows full well its device was not "stolen".
The governments in both Beijing and Washington have treated cautiously because, unlike the yet-to-be US president, they know the sensitivity of matters concerning the South China Sea, which involve convoluted strategic divergences.
Neither gave precise geographical coordinates for the incident, in keeping with the two countries long disagreement over the jurisprudential standing of what Washington calls "international waters"-which is absent from the United Nations Convention on the Law of the Sea-and whether a country has exclusive sovereign jurisdiction over its "exclusive economic zones",
But as well as the overlap and tricky distinction between what the Pentagon calls "collecting unclassified scientific data" and "close-in surveillance" and military surveys, chances are both parties are keen to keep the incident low-profile knowing there is a legal grey zone to the matter.
The best way out, therefore, is to leave it to those in the know-in this case the two militaries. Truth is they have already "secured an understanding" through "direct engagement", as the Pentagon put it.
Trump may not care for such an ending, or he would not have tweeted afterwards "let them keep it". He might believe there is more to exploit.
It is good for both countries that Trump is still commander-in-wait, or we might have a situation where cooler heads are pushed aside by surging emotion.
If Trump refuses to heed incumbent US President Barack Obama's advice to do better homework and think through "what the consequences are" before upending long-standing US policies, he could easily drive China-US relations into what Obama portrays as "full-conflict mode" where "everybody is worse off".