TPP shows its true colors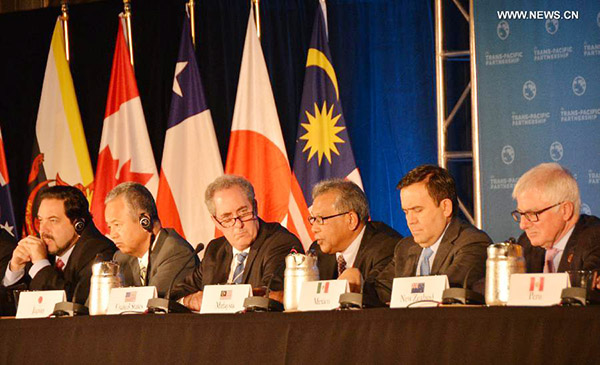 Trade ministers of the United States and 11 other Pacific Rim countries attend a press conference after negotiating the Trans-Pacific Partnership (TPP) trade agreement in Atlanta, the United States, on Oct. 5, 2015. [Photo/Xinhua]
Some media have reported the possible shelving of the Trans-Pacific Partnership Agreement (a would-be 12-nation trade deal with rules written by the United States and excluding China), as a result of the United States withdrawing from it, would be a setback for globalization.
This is ironic, since in its true colors, the TPP is not a trade deal, but rather a geopolitical instrument, albeit a poor one.
It is not designed to be open and to accommodate all trading nations on an equal footing. Instead, it is intended to reinforce the US' dominant position by accommodating some nations handpicked by it and deliberately excluding others, no matter how much those others contribute to global trade.
The TPP is meaningless if the US is not part of it, as Japanese Prime Minister Shinzo Abe recently admitted-and in so doing, betraying the fact that he wanted to join the game most importantly to fulfill Japan's duty as a US ally, not to seek the further liberalization of world trade.
This being the case, the TPP has naturally failed to convince many it was the "higher level" trade deal it was being touted as. Not least, it has failed to convince Donald Trump, the incoming US president.
Take labor conditions for example. In early development, private companies usually don't have a better record than State-owned enterprises. Yet the latter are categorically discriminated against by the US.
In fact, if rich countries really want to play a useful role in facilitating trade-led development in poorer countries, a more important thing to do is to help the latter develop public infrastructure-from ports and roads to new industrial zones.
This has been the focus of China's endeavors. And, if China and the US could work together, this is where free trade could get a much stronger boost, although so far this has been only wishful thinking.