Local kids run rings around CCTV hosts in Zhangjiagang soccer match
( chinadaily.com.cn )
Updated: 2016-11-25
| | | | | | | | | |
| --- | --- | --- | --- | --- | --- | --- | --- | --- |
|   | | Print | | Mail | | Large Medium  Small | | 0 |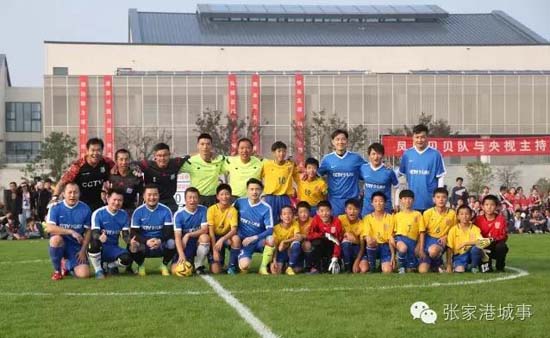 Members from the Zhangjiagang Youth Soccer Team and the team from CCTV pose for a group photo at Fenghuang Town Central Primary School on Nov 13. [Photo from WeChat account zjgcitynews]
Zhangjiagang witnessed one of soccer's great David-and-Goliath stories on Nov 13, as a team of local 12-year-olds beat a line-up of CCTV's most famous faces in a penalty shoot-out after an epic 10-10 draw.
When Bai Yansong, He Wei and their fellow CCTV presenters saw their opposition for the friendly soccer match, held after a recording for popular show Hand in Hand in Zhangjiagang, they probably thought they were in for a relaxing afternoon.
The local team selected to take on the group of TV hosts had an average age of just 12 years old, and some of them barely came up to their opposite numbers' chests.
But Zhangjiagang Youth Soccer Team was no ordinary kids' soccer team, and things started to go wrong for CCTV FC within seconds of the whistle blowing to start the match at Fenghuang Town Central Primary School.
"Nice shot!" shouted Zhou Jingzhe's teammates from Zhangjiagang Youth, after the slender teen drove in a first-minute opener.
It was later revealed that the youth team has won several national championships, as well as being champions of their hometown and of Suzhou, the city that administers Zhangjiagang.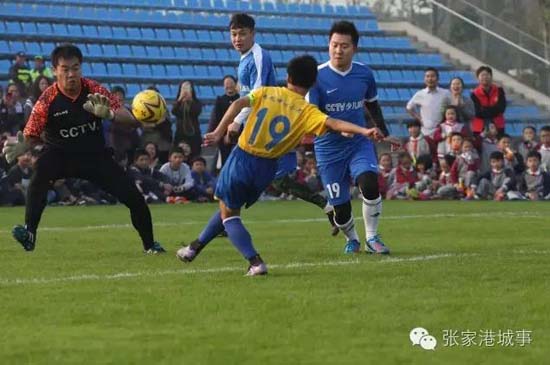 One of the young players from Zhangjiagang Teenager Soccer Team tucks away another goal during the friendly match against a team of CCTV hosts on Nov 13. The teenagers surprised their opponents with their excellent soccer skills. [Photo from WeChat account zjgcitynews]
The match was fiercely contested from then on, as the celebrity eleven fought hard to avoid an embarrassing defeat against the lightning-quick youngsters.
The two sides kept the score close, with CCTV maintaining a slender lead at half time at 4-3, but the teenagers battled back to a 10-10 draw in the second half.
And the kids were not to be denied when the match went to penalties, winning an epic shoot-out 16-15.
The CCTV team took their defeat on the chin. "The boys really amaze me. You see, they have solid soccer skills and are keen to judge and handle different circumstances," said the sports commentator Shao Shengyi.
The boys' excellent performance won the hearts of everyone present, especially Zhou, the gangly number 10 who opened the scoring, drew lots of praise for his exquisite control and lightning speed.
But the boys remained modest even after their famous victory. "I love soccer as much as my hometown, that's my driving force," said a team member. "I hope to play more games with the hosts in the future."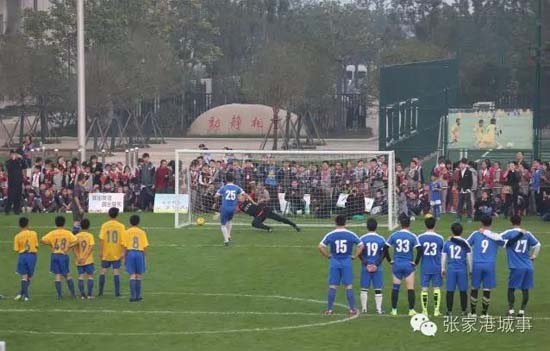 One of CCTV's players tucks away a penalty during the friendly match against a team of youngsters from Zhangjiagang on Nov 13. The match was fiercely contested, with the two sides drawing 10-10 during normal time. The teenagers eventually emerged victorious after an epic penalty shoot-out that finished 16-15. [Photo from WeChat account zjgcitynews]