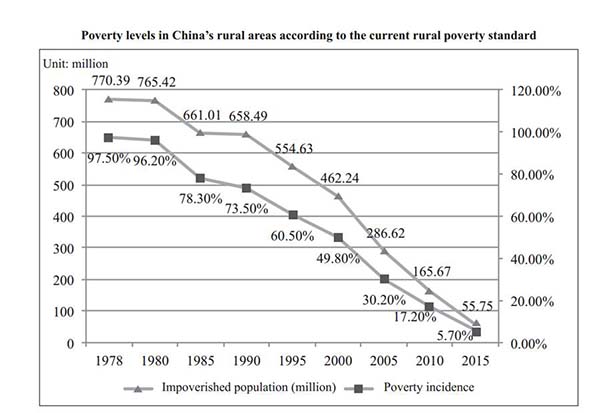 Graphics shows the poverty levels in China's rural areas according to the current rural poverty standard, Oct. 17, 2016. [Photo/Xinhua]
Editor's Note: The State Council Information Office on Monday issued a white paper on China's progress in poverty reduction and human rights. The following are some experts' comments on China's poverty alleviation and human rights work:
There is no doubt that China has made remarkable strides in reducing poverty levels. Once a country with over 942 million living in poverty, it has now reduced this to 55 million. Additionally, with a targeted poverty alleviation strategy in the 13th Five-Year Plan (2016-20), the aim is for poverty to become history in China by 2020, leaving no one behind.
Poverty is dynamic, and using innovative approaches to help identify and track the poor in a more real-time and real-place manner will be vital to achieve this. The UN has experience globally, and can assist China experimenting with alternative instruments, such as using big data to complement the traditional household surveys that feed the national database. Moreover, with more and more financial resources being allocated for poverty reduction, the UN can assist with effective implementation, including assessing the cost-effectiveness of public spending, via setting up an overarching appraisal system.
Nicholas Rosellini, designated United Nations resident coordinator in China
Poverty is not just an economic issue. It is impossible to completely solve the problem of poverty through its economic growth alone. To eradicate poverty is in essence a human rights issue requiring social order with human dignity as the foundation. In this sense, we should look at the poverty issue from the perspective of human rights.
The white paper once again stressed that looking at the poverty problem from the perspective of better protecting human rights is the Chinese government's basic stance. With such a perspective, the government needs to ensure all people can live a decent life and thus make all people share the fruits of the country's fast-growing economy and realize the goal of common prosperity.
Zheng Zhihang, a researcher at the school of law, Shandong University