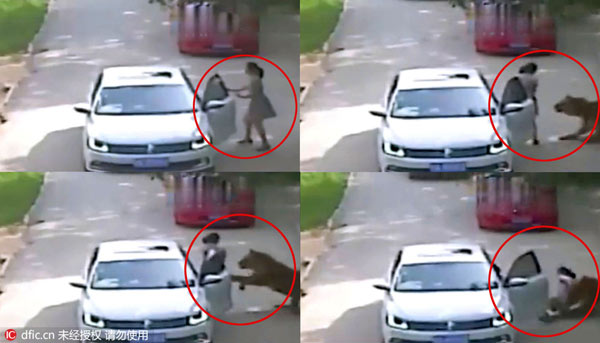 Screen shots show a tourist being attacked by a Siberian tiger in Badaling Safari World in Beijing, July 23, 2016. [Photo/IC]
When a woman was attacked by a tiger when she got off a car in Badaling Safari Park Beijing in July despite warning signs against such behavior, her mother also left the car to rush to her aid. The daughter was rescued by park staff but the mother was mauled to death by another tiger before they could come to her aid. The daughter is now suing the safari park for compensation. Southern Metropolis Daily commented on Monday:
The woman who survived claims the safari park didn't fulfill its obligation to inform visitors of the danger and the patrol did not arrive in time and did not have the necessary equipment, such as a tranquilizer gun, to carry out a rescue. She is claiming 2.74 million yuan ($410,856 ) in compensation.
The safari park says that there are plenty of warning signs and every safeguard possible is in place. And the official investigation into the incident cleared it of responsibility, so it does not have any legal liability to pay compensation.
However, the park has offered the woman 15 percent of the money she wants.
The two women got out of the car even though they were aware of the presence of the tigers. They put themselves in danger.
So it is up to the woman to prove that the safari park's management was at fault.