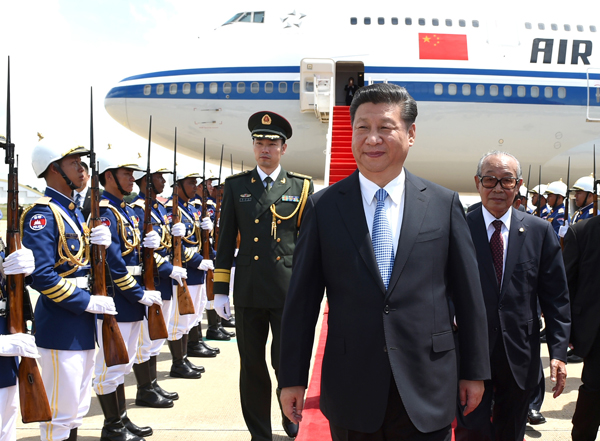 President Xi Jinping arrives for a state visit to Cambodia in Phnom Penh October 13, 2016. [Photo/Xinhua]
During President Xi Jinping's state visit to Cambodia from Oct 13 to 14, 31 trade and development and cooperation agreements were signed. The signing of deals between China and other nations during a presidential visit is now the norm and is the high expectations of such trips.
Both countries would mutually benefit from greater economic cooperation and improved relations by working together in development and trade that benefit both countries.
China values its long historical friendship with Cambodia built since the days of King Norodom Sihanouk and treasures the great support from the Hun Sen government in building peace and stability in Cambodia and the region.
Based on the amicable relationship, China has been contributing to the development and modernization of Cambodia and its economy. China's experience and success in infrastructure and economic development is a blue print that could be applied to Cambodia to turn it into a modern state in accelerated pace and a role model for the region.
Cambodia is also strategically located within China's One Belt and One Road project that spanned across Asia and South East Asia and participation in this project would add a lot of fuel to stimulate the growth of the Cambodian economy and linking Cambodia by road and by sea to the rest of the Asia and Europe.
The Chinese expertise and financial resources would be the basket of goods and aids that China would bring to Cambodia to showcase what a mutually beneficial relationship could be good for both countries.
China's success in helping Cambodia transform into a new economic miracle could boost China's attractiveness as a trading and economic partner and for other emerging states to want to emulate.
In Cambodia lies a new model of inter-state cooperation and development in the emerging new economic world order of peaceful development.
The author is a political observer from Singapore.
The opinions expressed here are those of the writer and don't represent views of China Daily website.