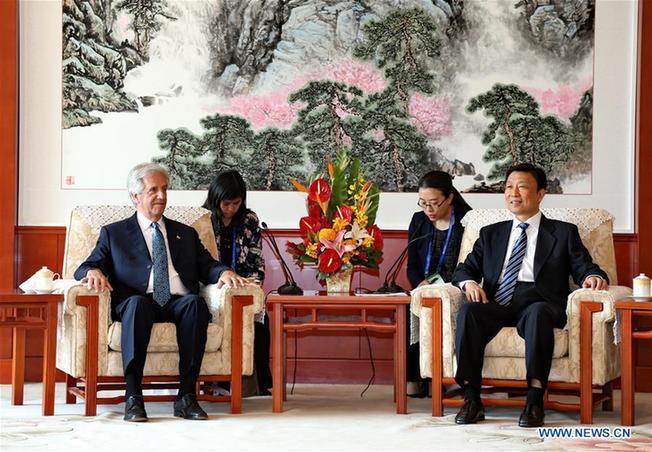 Chinese Vice President Li Yuanchao (right) meets with President of Uruguay Tabare Vazquez, who attends the 10th China-Latin America and Caribbean (LAC) Business Summit, in Tangshan, North China's Hebei province, Oct 14, 2016. [Photo/Xinhua] 
During my time in China, few things have made me prouder than this week seeing the Uruguayan flag waving in Tian'anmen Square, alongside China's flag. The reason: the president of Uruguay, Tabare Vazquez, is embarking on an official visit to China, seeking to strengthen cooperation ties between the countries. The president's schedule, which besides Beijing includes Hebei and Guangdong, reflects the strategic importance that China has for Uruguay. But before getting into the significance of this trip, I would like to tell readers an anecdote that, in times of political uncertainty in the West, illustrates the maturity and stability of Uruguay–a country that has been described by some as the Pearl of the West.
Right before deciding to come to China for the first time, I had a talk with former president Julio Maria Sanguinetti. "Many people think that the man who changed the world in the 20th century was Mikhail Gorbachev," he told me. "Well, they are wrong. The man who really changed the world was Deng Xiaoping."
It's been 28 years since China and Uruguay reestablished diplomatic relationships, precisely under Sanguinetti's administration. Since then, presidents of different political parties have governed Uruguay. Nonetheless, all of them had one thing in common: they considered China a strategic partner and, first and foremost, a good friend.
Our countries might have huge differences in terms of size. We might be separated by thousands of kilometers. We might eat different kinds of food and speak different languages. However, we share many common goals. As president, Vazquez highlighted during his touching speech at the China-LAC Business Summit, global peace is the most central of those goals. President Vazquez, a two-term leader with remarkable support from the Uruguayan people, comes to China with the intention of taking bilateral cooperation in trade, investment and finance to a new level. During his meeting with President Xi Jinping–also a leader of great stature who charmed Uruguayans during his visit to Montevideo back in 2011 when he was the vice-president–President Vazquez will discuss a potential free trade agreement. For Uruguay, an agreement of this kind would be a game changer. These negotiations are also proof that China's commitment to help developing countries lift themselves up is not just empty talk. While China already is Uruguay's largest trading partner, there are still many hidden gems for Chinese and Uruguayan companies to discover in each other country. And companies from the two countries are ready to do so.
There are also plenty of bilateral cooperation opportunities in areas such as sports, culture and education. With a population of only three million, Uruguay has managed to win the FIFA World Cup title twice. Uruguayan soccer experts can assist China in discovering its greatest talents and fulfilling its dream of becoming a soccer powerhouse. In addition, more and more Uruguayan young professionals are choosing China as the place to pursue their dreams.
I, myself, will be eternally grateful for how kind the people of this country has been to me and for all what they taught me during my time working in the Chinese government. Likewise, every year, more Chinese students pick Uruguay as their study abroad location of choice.
To pursue all these opportunities, the fact that never before did Uruguay had such a capable diplomatic team to pursue these opportunities with concrete actions, helps. The leadership of Ambassador Fernando Lugris is already contributing to optimize and expand bilateral relations. The embassy is doing an outstanding job in promoting commercial and cultural ties, as well as in facilitating the access of Uruguayan agricultural products to China.
I am very optimistic about the future of the bilateral relation and I believe that the two countries can join hands to walk towards progress. Now it is time to get to work to translate the friendship between our countries into better opportunities for our people. President Vazquez's trip is step of great importance in that direction. In China-Uruguay relations the best is yet to come.
The author is the first foreign professional that worked directly under a unit of the Chinese government. He's a Tsinghua university graduate and has been a visiting scholar at the Harvard Law School.