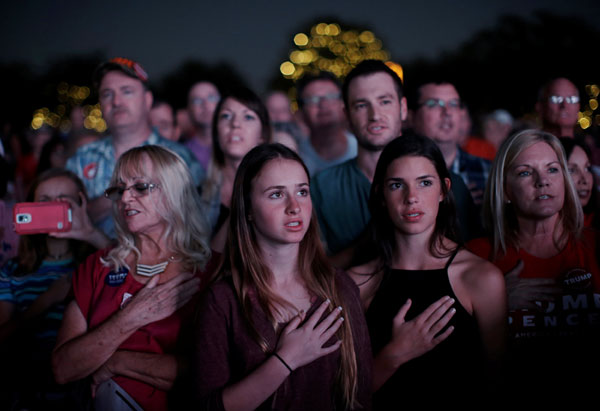 Voters recite the US Pledge of Allegiance at a campaign rally in Panama City, Florida, US, October 11, 2016. [Photo/Agencies]
US Democrat presidential candidate Hillary Clinton and her supporters these days like to quote her words at the Fourth UN World Conference on Women in Beijing in 1995 when she said "women's rights are human rights". The words are aimed at presenting Clinton as defender of women's rights.
Indeed, women's rights are human rights, and should be defended all the time. However, when they are used to show Clinton's courage in criticizing China on women's rights, it is simply misleading.
It is true that China, as the largest developing country, still has a long way to go to achieve total gender equality. Domestic violence, discrimination in jobs and education, and women's participation in politics are just some of the issues that need to be addressed. Yet, no one could deny that women's status in China has been greatly elevated since the founding of the People's Republic of China in 1949.
The words of late top leader Mao Zedong that women hold up half the sky are deeply rooted in people's hearts.
For example, women accounted for 45 percent of the total employment in China in 2013 and a higher percentage of the jobs are in managerial and technical positions, according to the White Paper on Gender Equality and Women's Development in China issued by the State Council Information Office in September 2015.
The gap in education has also been narrowed. About 52.1 percent of college students and 51.6 percent of graduate students in Chinese universities are women, while women account for 36.9 percent of the doctorate students enrolled.
Life expectancy for women has also increased by 4.1 years on average from 73.3 in 2000 to 77.4 years in 2010. In Shanghai, it has increased to 85.09 years in 2015.
And in 2013, 23.4 percent of the deputies to the National People's Congress, China's top legislature, were women.
However, the fact that China was ranked by the World Economic Forum 91st of 145 countries for its gender gap in 2015 shows that while China has made great progress, much more still needs to be done.
Still, China fares better than Japan (101), South Korea (115), India (108) and Saudi Arabia (134). The fact that people have not heard Clinton or her campaign boasting of talking about women's rights in these countries, mostly US security allies, only exposes her lack of sincerity when addressing women's issues in China.
What is little known, even to most US citizens, is that a UN human rights working group admonished the United States last year for its serious concerns about women's rights in the US. The US is one of a few countries not to have ratified the International Convention on the Elimination of All Forms of Discrimination against Women. While more than 80 percent of countries guarantee gender equality in their constitutions, the US Constitution doesn't have such a clause.
The US is also one of the four countries and the only developed country that doesn't provided mandatory paid maternal leave. Meanwhile, maternal mortality has also doubled in the US from 7.2 deaths of mothers per 100,000 live births in 1987 to 17.8 deaths in 2011. The figure for African-American women is much higher.
In the US Congress, less than 20 percent of the seats are now taken by women.
What is worse is that nearly one-third of all female prisoners in the world are incarcerated in the US, according to the 2014 study by the International Center for Prison Studies.
People joining hands to advance the cause of women's rights is to be welcomed, but if politicians intend to try and mislead the public by attempting to cash in on their empty and biased rhetoric, it only exposes their hypocrisy.
The author is deputy editor of China Daily USA. chenweihua@chinadailyusa.com