Rule-based market can end the up-and-down cycle in stock market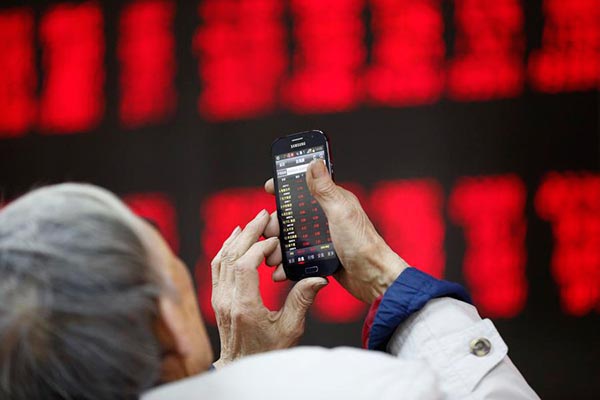 An investor checks stock information on his mobile phone in front of an electronic board showing stock information at a brokerage house in Beijing, February 16, 2016.[Photo/Agencies]
Despite frequent corrections, China's stock market indexes have unexpectedly kept moving up in recent months. The benchmark Shanghai composite index rose to 3,301 points in late November from as low as 2,638 points early this year.
Looking forward, the domestic stock market may become more turbulent in 2017 given the many uncertainties posed by changes in both the domestic and international economic and financial landscapes.
The International Monetary Fund's latest report says the world economy may grow by 3.4 percent in 2017, up from 3.1 percent this year. Even if the forecast proves right, which is not often the case, the world economy will continue to struggle to come out of the low-rate growth cycle it has been trapped in for long.
Domestically, some analysts have predicted that China's annual year-on-year GDP growth could fall to below 6.5 percent next year. Although policymakers remain confident of keeping growth at a stable level, it will be more challenging for the country to use fiscal and monetary tools to keep the economy rolling.
The stock market trend may not closely follow the changes in economic fundamentals, but given the weak, low-rate growth prospects, the possibility is not high that the stock indexes will increase impressively. Worse, the global financial markets seem to have become more turbulent thanks to the frequent occurrence of "black swan" incidents.
Donald Trump's victory in the US presidential election has unexpectedly boosted the US stock market, but under his administration, the US economic policy may be quite different from that under incumbent President Barack Obama's. For example, Trump has vowed to use trade measures to protect US interests, which, if implemented, will create a lot of uncertainties in the global trade system, possibly affecting global growth.