New manned mission big step for the nation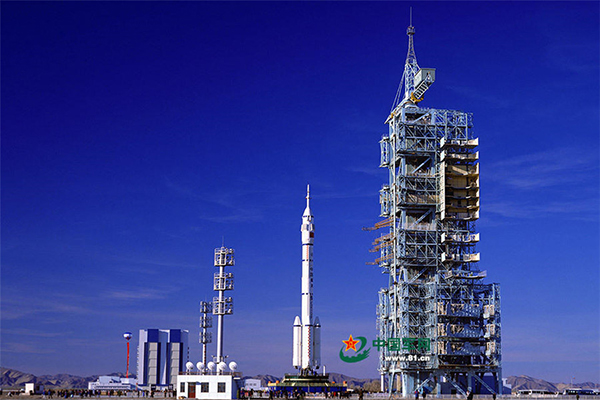 Shenzhou II blasts off on 10 January, 2001, carrying microbes and several small animals. The capsule returns to Earth on January 16, touching down in the Inner Mongolia region. The Shenzhou II spaceship is the first formal unmanned spaceship of China. [Photo/81.cn]
A Long March-2F carrier rocket carrying the Shenzhou XI manned spacecraft blasted off from the launch pad at Jiuquan Satellite Launch Center in Northwest China's Gansu province, at 7:30 am on Monday, heralding the start of China's sixth manned space mission.
Jing Haipeng and Chen Dong, the two astronauts charged with carrying out the mission, are to stay in the Tiangong II space laboratory for 30 days, testing rendezvous and docking technologies, verifying the life support capability of the docked spacecraft and lab, and conducting scientific research and engineering experiments.
In the past 18 years since 1999, 11 Shenzhou spacecraft have been successfully launched into space, and the missions have developed from unmanned ones to the manned ones, with each one making new and significant progress.
Now Jing and Chen are taking the next big steps in the nation's space journey and making a new contribution to the building of China into a space power.
While a country's science and technology reflect the strength of its overall development, space technology reflects the overall capability of a country's development in science and technology.
Now China is the third country after Russia and the United States that has independently developed advanced space technology and conducted manned spaceflights.
Compared with Russia and the United States, China was underdeveloped at the beginning and still trails behind in many aspects. But the country has never given up on its resolve to catch up with the world's leaders in science and technology, as its leadership understands the importance of science and technology for a nation's development.
That explains why China has achieved such a lot in the development of its space technology in the past two decades and is striving to make new breakthroughs.
And as the world's second-largest economy, China wants to make its due contribution to the development of human civilization. Conducting space exploration not only has the potential to expand human knowledge of the universe in which we live, it also extends the cooperation of major powers in the peaceful utilization of space.
We are looking forward to the return of the two astronauts, whose experiments conducted in the Tiangong II space laboratory will hopefully further our understanding about human endurance in space and so contribute to future human exploration of the universe.