Astronauts of China's Shenzhou-11 mission meet press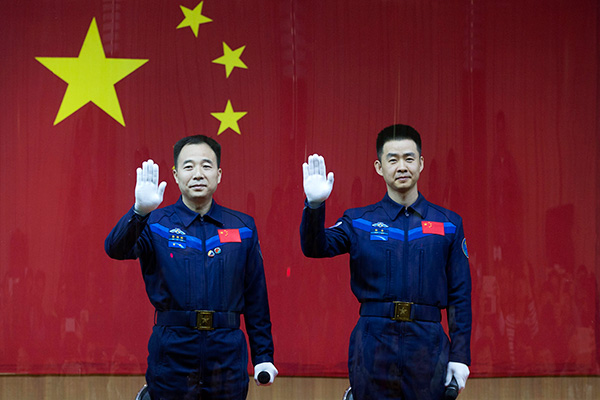 Chinese astronauts Jing Haipeng and Chen Dong meet the press on October 16 at the Jiuquan Satellite Launch Center in northwest China. [Photo by Feng Yongbin/asianewsphoto]
JIUQUAN - Chinese astronauts of the Shenzhou-11 mission, Jing Haipeng and Chen Dong, met the press Sunday ahead of Monday's launch.
Sitting under a national flag, the astronauts appeared in good spirits and answered several questions.
"Although the job is challenging, risky and dangerous, there is nothing more I would rather do," Jing, 50, who is commander of this mission, told reporters.
It will be Jing's third spaceflight following his Shenzhou-7 mission in September 2008 and Shenzhou-9 mission in March 2012.
"[For this mission] we have improved our ability to deal with emergencies, first aid and space experiments," Jing said.
Born in central China's Henan Province in 1978, this will be the first time Chen has been a crew member of China's manned spacecraft.
"I will treasure every moment in space and ensure I record my experience in my diary and enjoy the out-of-this-world scenery," Chen said.
With a safe flight record of 1,500 hours as an air force pilot, Chen was named one of China's second group of astronauts in May 2010, and was selected as a crew member for the Shenzhou-11 mission in June 2016.
They will depart early Monday for the launch site and board Shenzhou-11 at Jiuquan Satellite Launch Center in northwest China.
Shenzhou-11 is expected to dock with the orbiting space lab Tiangong-2, which was launched from Jiuquan on Sept. 15. The astronauts will stay in the space lab for 30 days before returning to Earth.