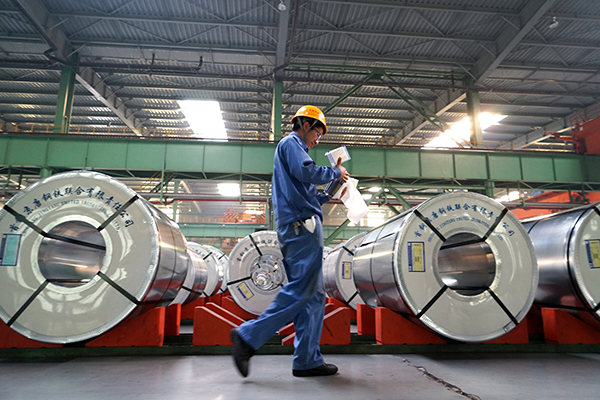 A worker checks steel product files at a cold rolling mill of Tangsteel Group Ltd in Tangshan, Hebei province. [Photo/China Daily]
Soon after Chinese Vice-Premier Ma Kai took part in a high-level economic dialogue with European Union officials three years ago, Beijing and Brussels reached an amicable solution to end their dispute over China's solar panel exports to Europe that had almost frozen bilateral relations for a year.
With that obstacle removed, they entered into talks on opening their markets to investments by the other. Soon after the dispute was settled, Xi Jinping made the first visit ever by a Chinese president to the European Union's Brussels headquarters.
These developments established a solid foundation for Beijing and the EU to forge closer ties.
But when Ma returned to Brussels to attend a new round of the high-level economic dialogue between the EU and China in Brussels on Tuesday, he faced the challenge that the problem-plagued EU is once again getting tough on access to its market. And this despite the fact that bilateral trade now stands at $1 billion dollars a day. As much trade is now done in seven hours with one EU country – Belgium – as it took a whole year to achieve 45 years ago.
A number of issues are expected to be discussed during this week's talks.
Both sides set an end of year deadline to come up with an agreed text after 12 rounds of negotiations. But, even with the best efforts of both sides, it will not be easy to find a compromise on the issue of market access within that timeframe.
There is also the issue of over-capacity in the global steel industry. The EU position, reinforced by lobbyists and industry groups, is as tough as it was in the dispute over solar panels. This year, steelworkers from around the EU took to the streets of Brussels to demand greater protection for their ailing industry. Their complaints against foreign imports have to be set against the fact that expensively run European plants also bear a share of the blame for what is a global problem.
Since China embarked on its economic miracle decades ago, much European capacity in steel-making has moved to China. Brussels should stop blaming Beijing for the problems, and work with it to find a solution. China has been making its contribution to solving the issue by reducing its steel capacity, which has led to a rising number of lay-offs in the domestic steel industry.
Also at the conference table, the two sides will not be able to avoid the topic of China's market economy status as Dec 11 is very close. After that day, in line with a World Trade Organization agreement, Brussels should no longer charge anti-dumping duties against Chinese exports to the EU on the basis of China's non-market status, since the transitional period of 15 years since China joined the WTO is over.
Beijing insists that the matter is non-negotiable, but so far Brussels has not offered a solution. Voices within the European institutions recently started commenting that the market economy issue is "not a technical but a political" one at a time when the EU is facing an existential crisis that challenges its political unity.
Within the context of the rule-based international community, it is maybe time for Brussels to show political wisdom and respect the WTO agreement.
Ideally, it would send such a message in the talks with Ma. And then, Brussels and Beijing could renew harmonious relations at a number of levels.
The author is deputy chief of China Daily European Bureau.
fujing@chinadaily.com.cn