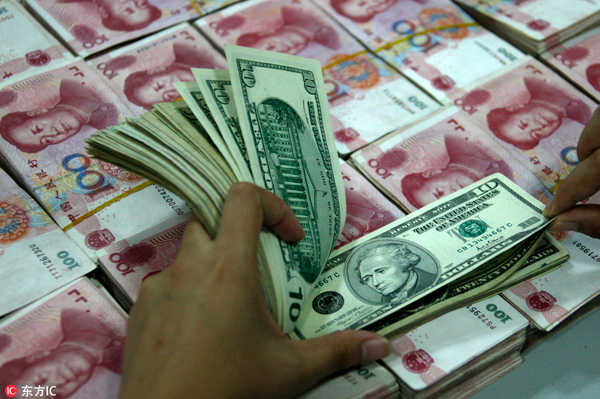 A clerk counts yuan bank notes and US dollar bills at a bank of the Industrial and Commercial Bank of China in Huaibei, East China's Anhui province, Nov 28, 2012. [Photo/IC]
The central parity rate of the yuan once again weakened on Monday, falling 222 basis points to 6.7379 against the US dollar, a six-year low. This came after a 139 basis-point rise the previous trading day ended seven consecutive days of declining.
The yuan's decline against the US dollar is a result of the market mechanism in recent days. The high volatility of major currencies such as the British pound against the US dollar since the beginning of October has led to a stronger dollar index, thus causing the yuan to fluctuate after the National Day holiday during which its exchange rate remained unchanged.
The yuan's recent inclusion in the International Monetary Fund's Special Drawing Rights basket of currencies, which means its exchange rate will more reflect market factors, demands as little intervention as possible from China's monetary authorities.
The market's anticipation of an interest rate rise by the US Federal Reserve has also increased expectations for a weaker yuan against the US dollar.
While a series of restrictive measures recently adopted by some major cities across China to cool their real estate markets are believed to have caused some funds to flee from the housing market to dollars, more dollars are being held by residents, enterprises and financial institutions amid the expectations of a weaker yuan.
However, there is no possibility the yuan's depreciation will be drastic, given that China's central bank is holding more than $3 trillion in foreign reserves and has sufficient means to stabilize the yuan. That the Chinese economy is stabilizing will help the yuan to stay at a basically stable level.
China's high domestic net savings rate, the considerable scale of its current account surplus and a GDP growth higher than world average mean no factors exist for long-term devaluation of the yuan.
--Haiwainet.cn