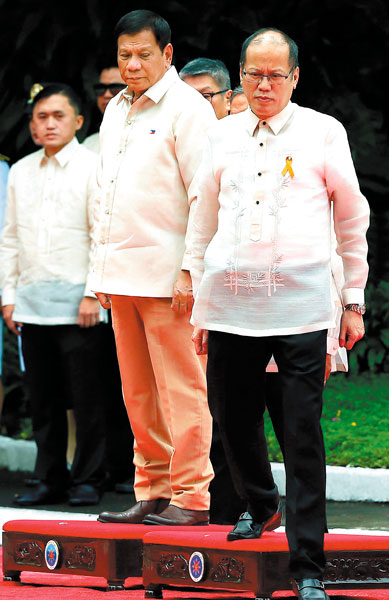 New Philippine President Rodrigo Duterte (center) watches as outgoing president Benigno Aquino steps down from the dais during the inauguration ceremony on Thursday at Malacanang Palace in Manila. [Bullit Marquez / Agencies]
After all the recent hoopla over the disputes in the South China Sea, an obvious priority for the region has been de-escalating tensions and finding ways to prevent or manage potential crises.
So with both Beijing and Manila having taken a step back from the tense standoff that had developed between them and making efforts to try and thaw their frozen ties, it is encouraging that other countries with disputes in the waters seem to be willing to do likewise.
The agreement between China and the 10 members of the Association of Southeast Asian Nations on Tuesday on the guidelines for setting up a hotline platform and their pledge to abide by the Code for Unplanned Encounters at Sea may appear to be a matter of course, but they had been on the agenda at high-level meetings between them for a while without any progress being made.
These agreements may seem more symbolic than substantive, since unplanned encounters at sea do not constitute a prominent concern between China and ASEAN states, even those with the most troubling disputes. And the hotlines may not be as important, or as indispensable, as the one between Beijing and Washington. However, their significance lies in the collective commitment to peace and crisis-prevention they represent; a commitment which is substantial in its own right.
From Beijing to Manila, to ASEAN as a whole, each and every party deserves a pat on the back for displaying such cool-headedness for, no matter how enthusiastic other parties are about trying to drive a wedge between China and ASEAN, it is up to those in the region to sort out the mess.
Agreements between China and ASEAN, like the ones announced on Tuesday, will create a favorable framework, or at least conducive atmosphere for dispute resolution on the state-to-state level. That is why Beijing has insisted on a "dual track" approach to dealing with the South China Sea issue. The historical mutual understanding and rapport between China and ASEAN are surely constructive in that regard.
What has been achieved at the meeting of high-level officials from China and ASEAN on implementing the Declaration on the Code of Conduct on the South China Sea may seem like affirming previously expressed intentions. (In other words, reaching agreement is a slow process, whose results are less than substantial.)
Small as it may be, the outcome of the meeting is an inspiring step toward the ultimate goal of formulating the anticipated Code of Conduct on the South China Sea. A goal that could be unachievable without such incremental progress.