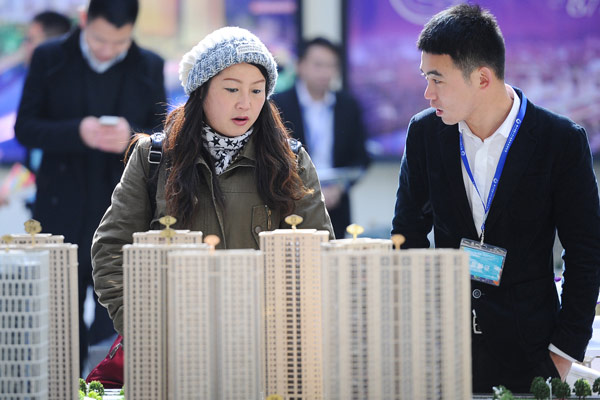 A woman talks with a salesman at a property market fair in Hangzhou, Zhejiang province.[Photo/China Daily]
Media reports quote the government as saying that levying property tax is now part of its agenda, sparking public concern. The problem is, if property tax is levied without full preparation, it will not achieve the expected goal of increasing revenue. Instead, it could undermine the government's credibility and seriously impede the modernization process of national governance.
Strictly speaking, property tax should be levied on all housing units based on evaluated prices. So the pilot property tax project in Shanghai and Chongqing is not property tax in this sense, because it exempts one or two houses of one household from the tax. And since every housing unit enjoys at least some sort of public service, not levying property tax on some of them would be unfair to the others.
Besides, the revenue from property tax will be limited without an extensive tax base, and thus cannot finance local public services, which is the basic purpose of levying direct tax. Besides, going by the existing situation, individual capacity of payment may influence the levying of property tax.
The housing units allotted at extremely low prices years ago to employees of public departments and institutions as part of civil service welfare can now fetch millions of yuan. But most of the owners of these houses cannot afford to pay property tax based on the evaluated real estate prices, because the growth in their salaries has been far outpaced by rising housing prices.
In addition, many people bought the houses at low prices before the real estate market boom started in earnest-a house that cost 5,000 yuan ($753) per square meter a decade ago could now be worth 10 times more. So these homeowners may not be in a position to pay high property tax because of their relatively low incomes.
The mission of the government should be to help people live a better life, and good living conditions are part of a good life. If the property tax worsens the lives of a sizable number of people, perhaps the government should not levy it now.
The goal of tax reform is to gradually increase the ratio of direct taxation. But we have to strike the right balance between the rules of taxation and the actual situation. Changing the structure of the tax system may be a slow process, but all such changes have one thing in common: collecting and increasing revenue.
One of the advantages of indirect taxation is that the source of taxation is stable, which could guarantee stable tax revenue. Given that levying direct tax is more difficult than levying indirect tax, proper planning and implementation of direct tax is of great significance.
During an economic downturn, the growth of individual incomes and enterprises' revenues slows down-there can even be negative growth-which means they become more sensitive to additional tax burdens. Hence, now may not be a good time to change the structure of the taxation system.
During economic and social transition, the challenges faced by the government in national governance are greater than during normal or stable periods. Direct taxation means the tax authorities have to directly contact individuals and families. And taxpayers will have more direct demands in terms of public services provided by the government. And if the government is unable to properly deal with such issues, it could increase social risks.
Property tax is related to national welfare and people's livelihood, and therefore requires serious consideration. A decision that would be correct and good in the future might not be so at present. Hence, the authorities should be more cautious about levying property tax now.
The author is a researcher at the National Academy of Economic Strategy, Chinese Academy of Social Sciences.