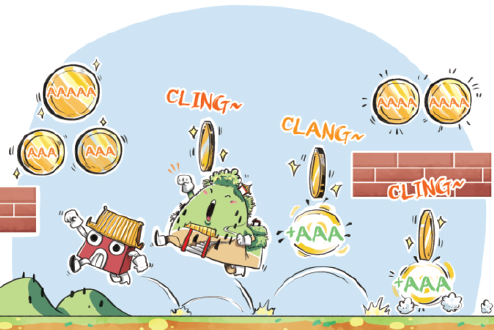 Cai Meng / China Daily
There are so many exciting and world-renowned attractions to see in China, such as the Great Wall, the Palace Museum and Mount Huangshan. With 5,000 years of history and civilization, China is home to the second highest number (50) of UNESCO World Heritage Sites; only Italy (51) has more.
China's domestic tourism market has been booming over the last decade, with a 10 percent annual growth on average. China's top-rated, AAAAA or 5A, tourist attractions have tripled from 66 in 2007 to more than 200 at present, with three sites being stripped of their 5A rating accreditations.
The first case of cancellation of the 5A-rated accreditation was Shanhaiguan Pass, the eastern end of the Ming Dynasty (1368-1644) Great Wall in Hebei province, last October, while Chongqing municipality's Shenlong Gorge and Hunan province's Orange Isle lost their privilege later. The common problems found by the China National Tourism Administration at the three sites included overpricing, bad sanitation, poor facility maintenance and degraded services.
The mechanism of revoking ratings initiated by the CNTA has been widely welcomed by the public, because it explicitly indicates A-ratings are revocable, not an assurance of a once-and-for-ever privilege.
It is worth noting that the failure to promote the "tourism toilet revolution" launched by the CNTA in January 2015 is the soft underbelly of most tourist attractions in China. In fact, many toilets at tourist sites have been built following high standards, but since the management is not up to the same standards and most users' behaviors are unhealthy and uncivil, they become dirty and quickly fall into disrepair. That could be remedied by following the "ABC" rule, namely architecture, behavior and cleaning. (Refer to "Elegant toilet culture to boost tourism", China Daily, May 20, 2016.)
It is also worth emphasizing that a systematic and comprehensive approach is needed to develop tourism in a healthy manner. Indeed, tourism promotion and marketing campaigns can boost demand. But it is more important to first improve and strengthen the supply side — the quality infrastructure of and services rendered at tourist sites. The Chinese joke of "Inside attractions is Europe, but outside is Africa" is not funny but shameful. The development of scenic spots should be integrated into the master plans of local cities.
For example, despite being a small city-state, Singapore attracts tens of millions of tourists every year. Its tourism strategy focuses far beyond a single industry. Tourism in Singapore has shaped the environment, influenced conservation and heritage policies, and improved local residents' quality of life. The industry has also helped boost the city-state's global reputation and attractiveness as a top place to work, study and live.
It is a positive sign that China's 13th Five-Year Plan (2016-20) has clearly outlined the long-term vision for its tourism industry, which will focus on advancing the industry's overall service quality and its deeper integration into other national and regional development plans. Although these sound good on paper, the question is whether and how domestic tourist attractions will be able to meet the goals.
As the first step, tourist spots need to change their outdated mindset. Being accredited with a rating is just a starting point but not an end in itself. To match the fast pace of growing and higher demand on quality tourism in China, tourist spots should treat their any A-ratings as a motivation for further advancement, rather than a gimmick to just sell tickets at inflated prices, risking short-term gain but long-term pain.
The author is a consultant for the Institute of Water Policy at the Lee Kuan Yew School of Public Policy, the National University of Singapore.