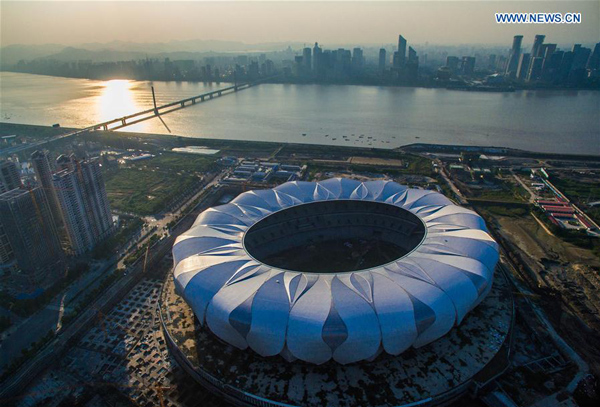 This aerial photo taken on Sept 16, 2015 shows the Hangzhou Olympic Sports Center in Hangzhou, capital of East China's Zhejiang province. China will host the 2016 Group of Twenty (G20) summit in the eastern city of Hangzhou, a tourism city best known for its West Lake scenic spot, on Sept 4-5. [Photo/Xinhua]
China has highlighted "robust trade and investment" as a key theme in a document announcing the priorities for this year's G20 summit. China's 13th Five Year Plan aims to double its 2010 GDP per capita by 2020, signaling a continued opening up of the economy, alongside important domestic structural reforms. Chinese leadership of the G20 is acting on these priorities by championing the establishment of a groundbreaking trade and investment working group (TIWG).
Since 2013, the International Centre for Trade and Sustainable Development (ICTSD) has co-convened the E15 Initiative with the World Economic Forum (WEF), generating policy options for strengthening the global trade and investment system to meet the demands, realities, and challenges of the 21st century. The following selective proposals could inform preparations towards the September G20 Hangzhou Summit.
1. Enable the WTO to better serve and lead the global trade and investment regime
The World Trade Organization (WTO) concluded its Tenth Ministerial Conference (MC10) in Nairobi, Kenya last December with, among other things, agreement to disagree on how, or indeed whether, to continue its Doha Round of multilateral trade negotiations. In practical terms this has left the international community without a multilateral trade agenda.
Significant changes in the last two decades have also sometimes seen the WTO out-competed in relevance by other venues. The proliferation of regional trade agreements (RTAs), tectonic shifts in world markets, and the rapidly expanding use of new technologies offer just a few examples of trends impacting the global trading system.
If properly deliberated, this challenging environment could provide opportunities for G20 leaders and the trade policy community to re-think the future of the multilateral trade system. The G20 should continue to support the WTO through helping the institution re-gain its centrality by repositioning itself in the broader and complex global trade and investment system of the 21st century.
First, G20 members can agree to enhance the monitoring and facilitation functions of the WTO, in particular in the areas of data collection and analysis, transparency, and dialogues.
Second, G20 members could act at the WTO to pursue more innovative approaches, by promoting certain model elements for regional or plurilateral agreements, with a view to integrating these into the multilateral trade system in ten to twenty years.
Third, the G20 could encourage the formation of a working group to concretely address fossil-fuel subsidies at the WTO, through an expansion of existing disciplines that are uniquely placed to support international rules-based cooperation on subsidies. The G20 has committed to phasing out fossil-fuel subsidies.